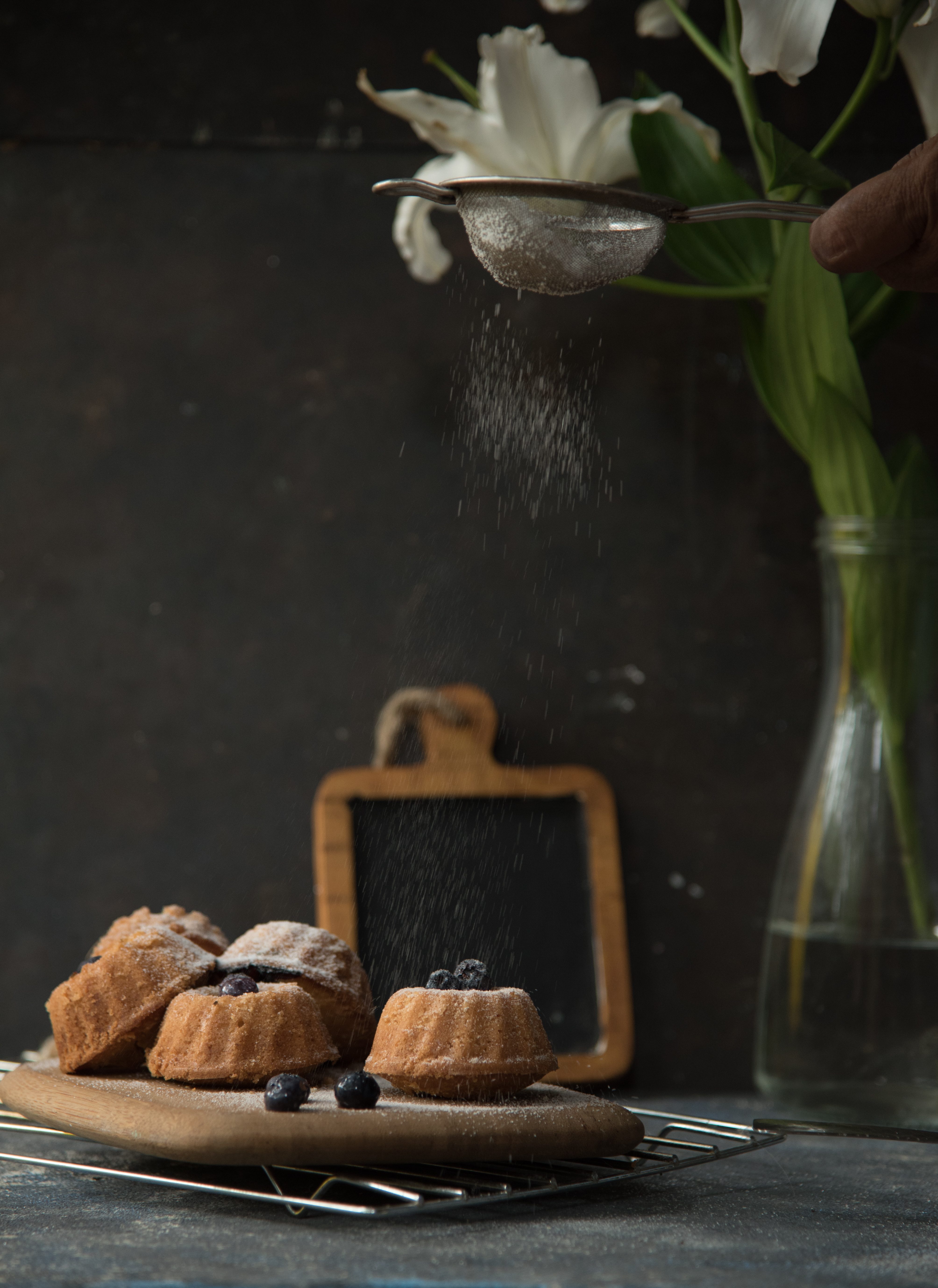 These super moist Blueberry Bundt Cake bursting with flavors of lemon and fresh blueberries is my favorite cake. The secret to this moist Blueberry Bundt Cake is the addition of Greek yogurt and buttermilk which I have used in this recipe. Serve these cute looking bundt cakes with a dusting of powdered sugar or drizzle of glaze during tea time gathering.
I have used fresh blueberries which are tossed in a little flour and sprinkle on layers and then covered with the final layer of the batter.This helps in keeping the blueberries from sinking to the bottom of the batter. Use of Lemon zest gives a freshness to this Blueberry Bundt Cake.
Ingredients for Blueberry Bundt Cake
1 cup fresh blueberries

3 cups all-purpose flour
2 teaspoons baking powder
1/2 teaspoon baking soda
8 tablespoons butter
1 1/3rd cup sugar

1/4

cup

plain Greek yogurt

1 cup buttermilk
3 large eggs
Zest of 1 medium lemon
A pinch of salt
Icing sugar, to dust


Directions:

Preheat the oven to 180 degrees C and spray the Bundt pan with cooking oil.


In a large mixing bowl, cream the butter and Greek yogurt until smooth. Add sugar and beat and mix well. Add salt and whisk till fluffy and lightened in color.

Add the eggs, one at a time, beating well after each addition.
In a separate bowl, whisk together the flour, salt,baking powder, and baking soda. Add 1/3 of the flour mixture to the butter mixture followed by 1/2 of the buttermilk, then the flour mixture and the remaining buttermilk and blend perfectly. Add the lemon zest in the end.

Dust the cake lightly with flour . Spoon 1/4 of batter into the prepared pan, then sprinkle with blueberries. Cover with the batter and with a spoon or spatula, gently level the cake batter and smooth the top.

Bake the cake for 45 to 55 minutes, or until a toothpick inserted into the center comes out clean.

Remove the cake from the oven. let it rest for 5 minutes then run a thin knife carefully between cake and pan all around the edge to loosen it. Place the pan upside down on a cooling rack.

Sprinkle powdered sugar on top and enjoy!


You can store the leftover cake at room temperature for 4 days .
(Visited 98 times, 1 visits today)