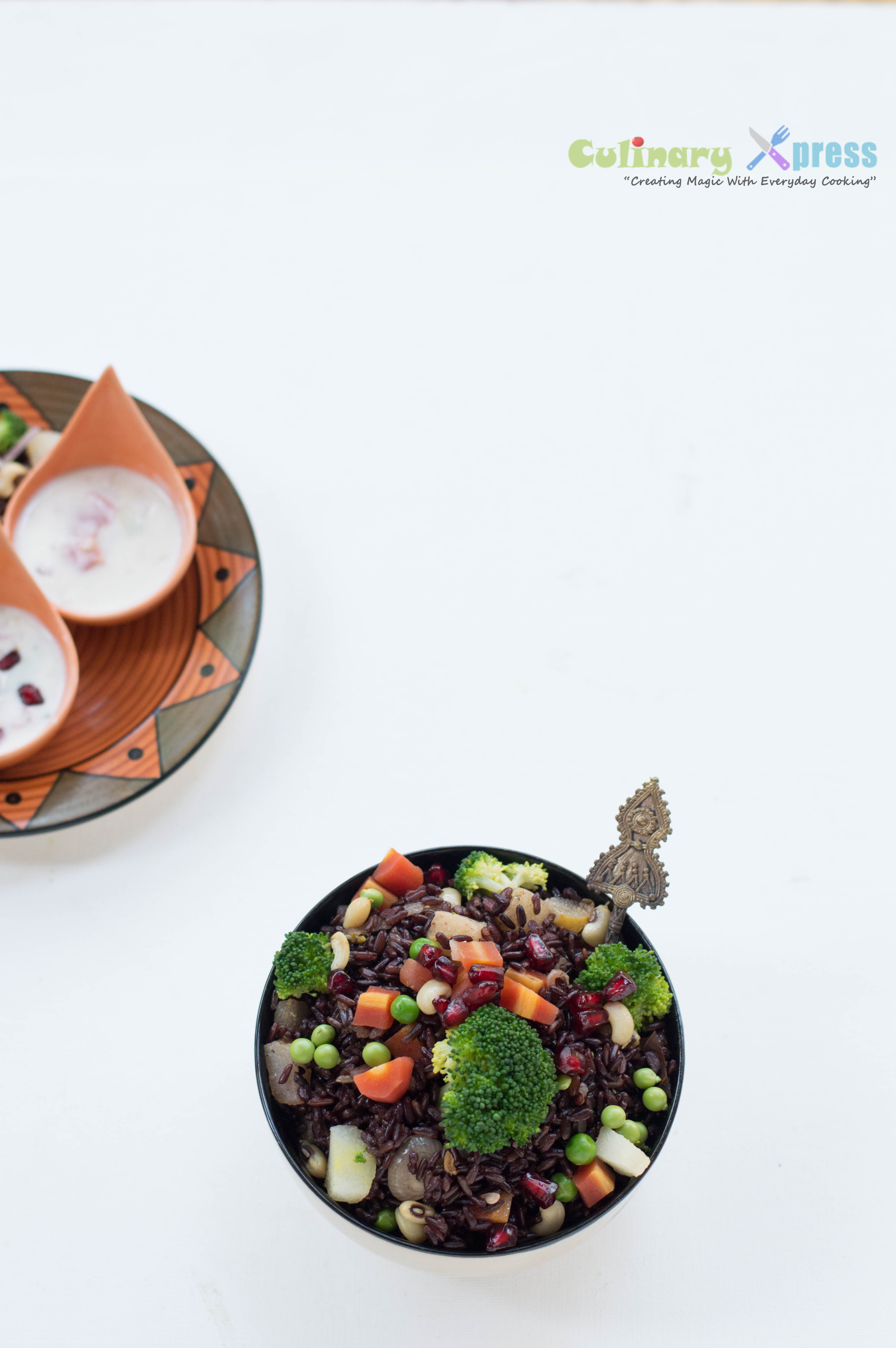 I have recently been introduced to Black Rice. I had never seen it before, but knew it's quite popular in Asia. The black rice has a texture similar to brown rice, but with a more prominent nutty flavor. The dark color of the rice is due to the un-milled rice grain, which leaves a dark husk. It is this outer layer of bran that sets black rice apart from other types of unpolished rice. This dark husk contains a special phytonutrients, called anthocyanins which is responsible for the reds, blues, purples, and magenta colours found in blueberries, grapes etc.In ancient China, Black Rice was known as "Emperor's Rice", and it was reserved exclusively for Chinese Royalty. Since black rice was quite rare, and for this reason it is known as "forbidden rice" also.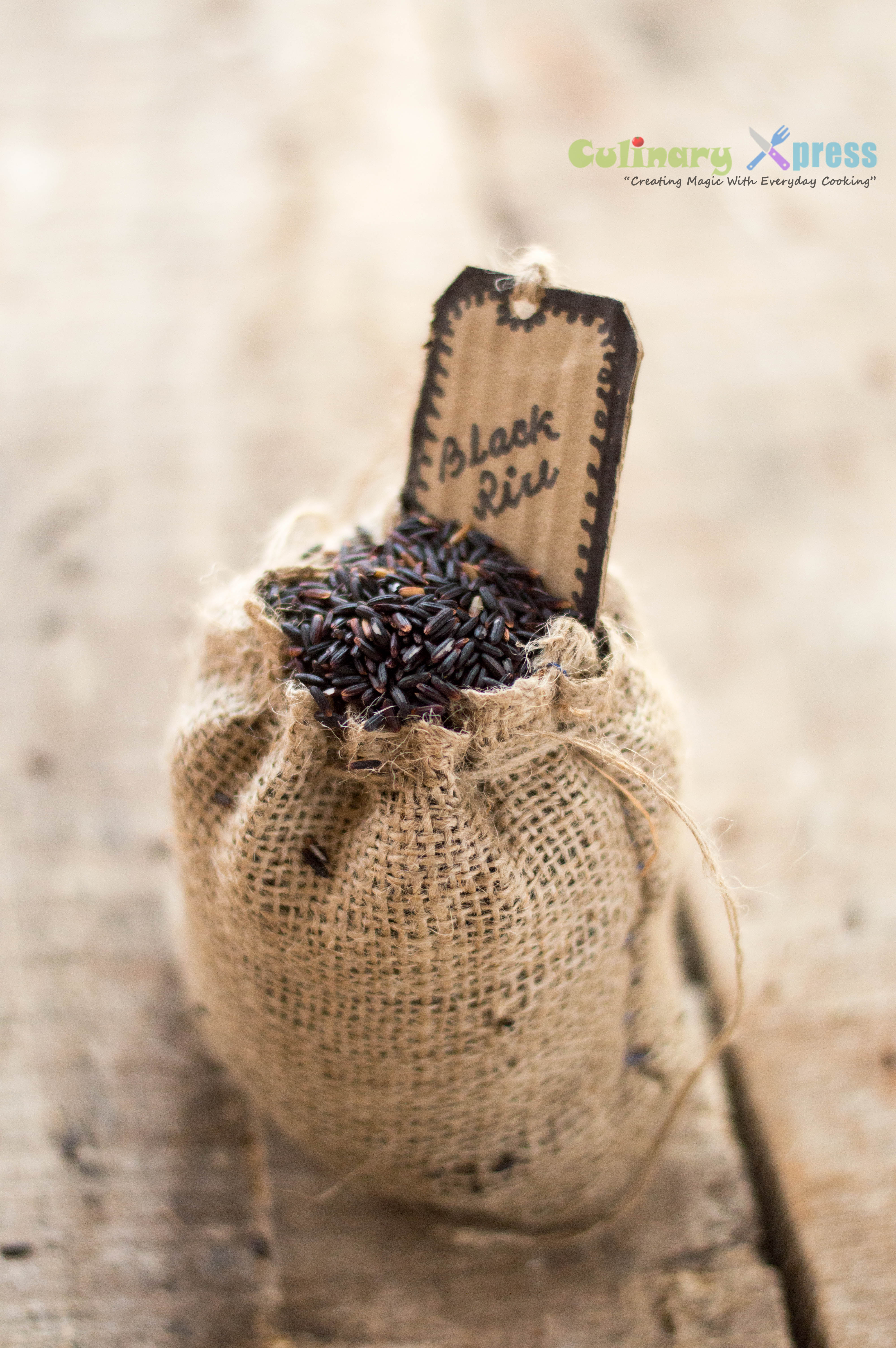 While brown rice is known for its health benefits, the visually stunning black rice contains high levels of vitamin E, fibre and antioxidants.Black rice has a slightly sweet and nutty flavor that is so delicious with heat and spice.This rice has a very unique presence as it cooks up to a deep purple color. This rice goes great with just about any meal or as a nice healthy side.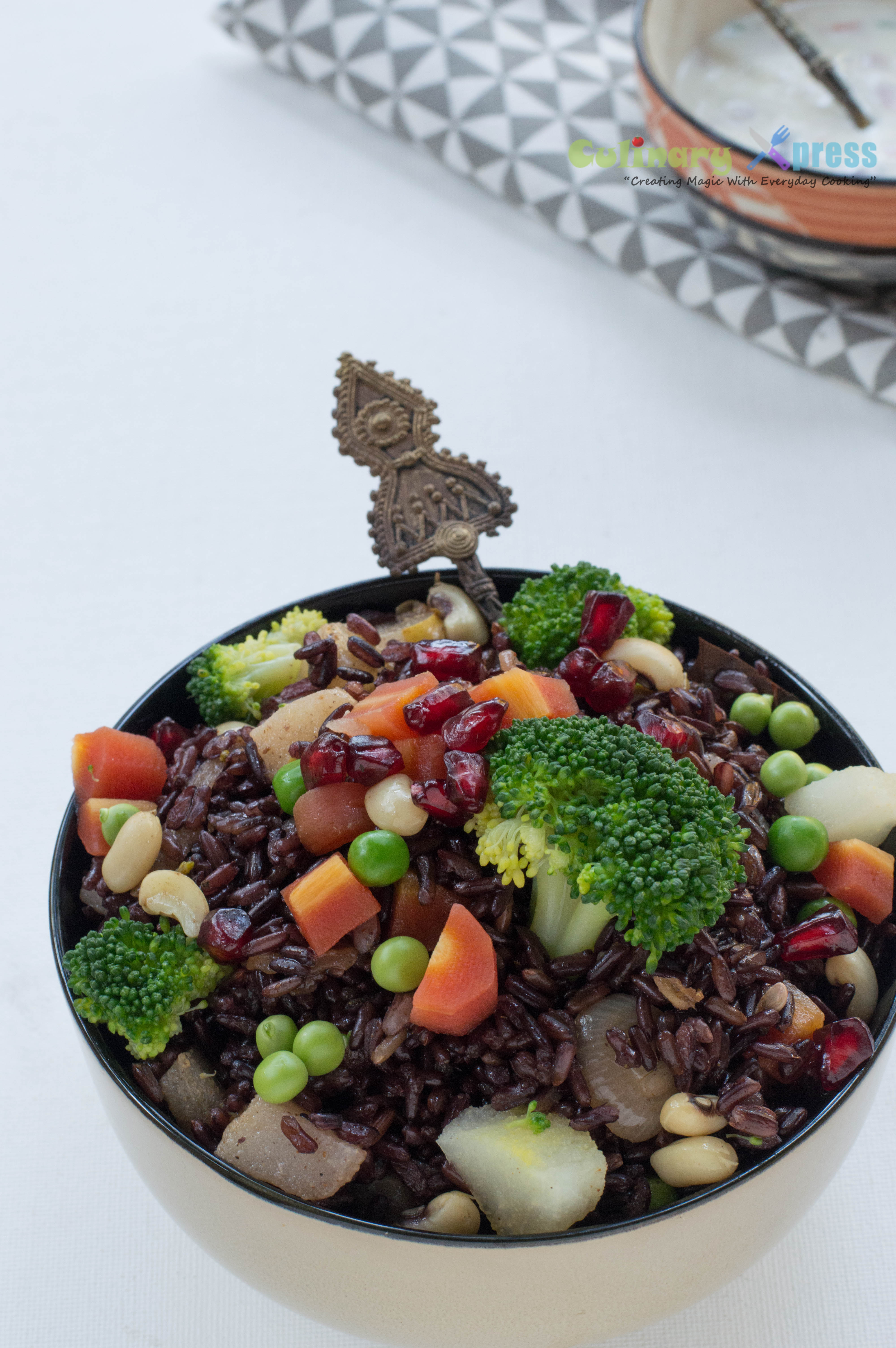 Last week Sujata my co blogger from our Foodie Monday BlogHop Team asked me to do a guest post for her blog Batter Up With Sujata . Sujata is a homemaker, a doting mother to two beautiful grown up children, a passionate home chef, and last but not the least a foodie.I was a little worried what to do for her blog, as her blog has a wonderful collection of healthy recipes.Check out her blog for more such  healthy recipe shares. Experimenting in the kitchen is what she loves and enjoys doing the most.Specially experimenting with vegetarian dishes and healthy egg-free bakes is what interests her the most.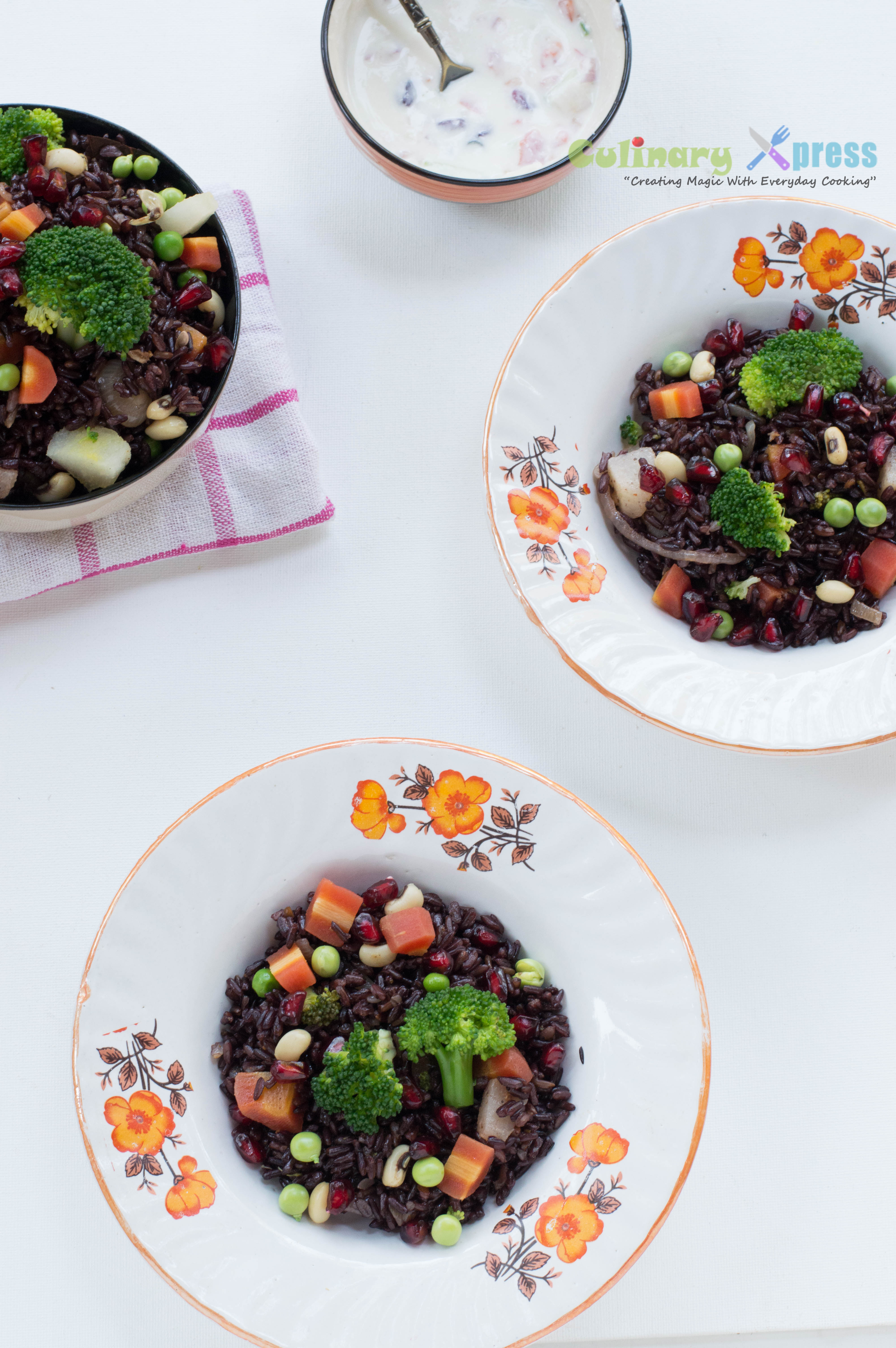 I decided to try making something healthy and worthy of her Blog . A Stir fry is one of my favorite kind of recipes which is a kind of comforting meal . So for this stir fry, i have used black rice, carrots, brocoli, peas both green and black eyed along with pear and pomegranate. I was pleasantly surprised with it's amazing taste and flavor. You can find different textures like the softness from carrots and chewy from black rice. The Pear and Pomegranate adds a kind of sweetness to the dish. This is a powerhouse of nutrients from all the vegetables and black rice and just perfect for her Blog.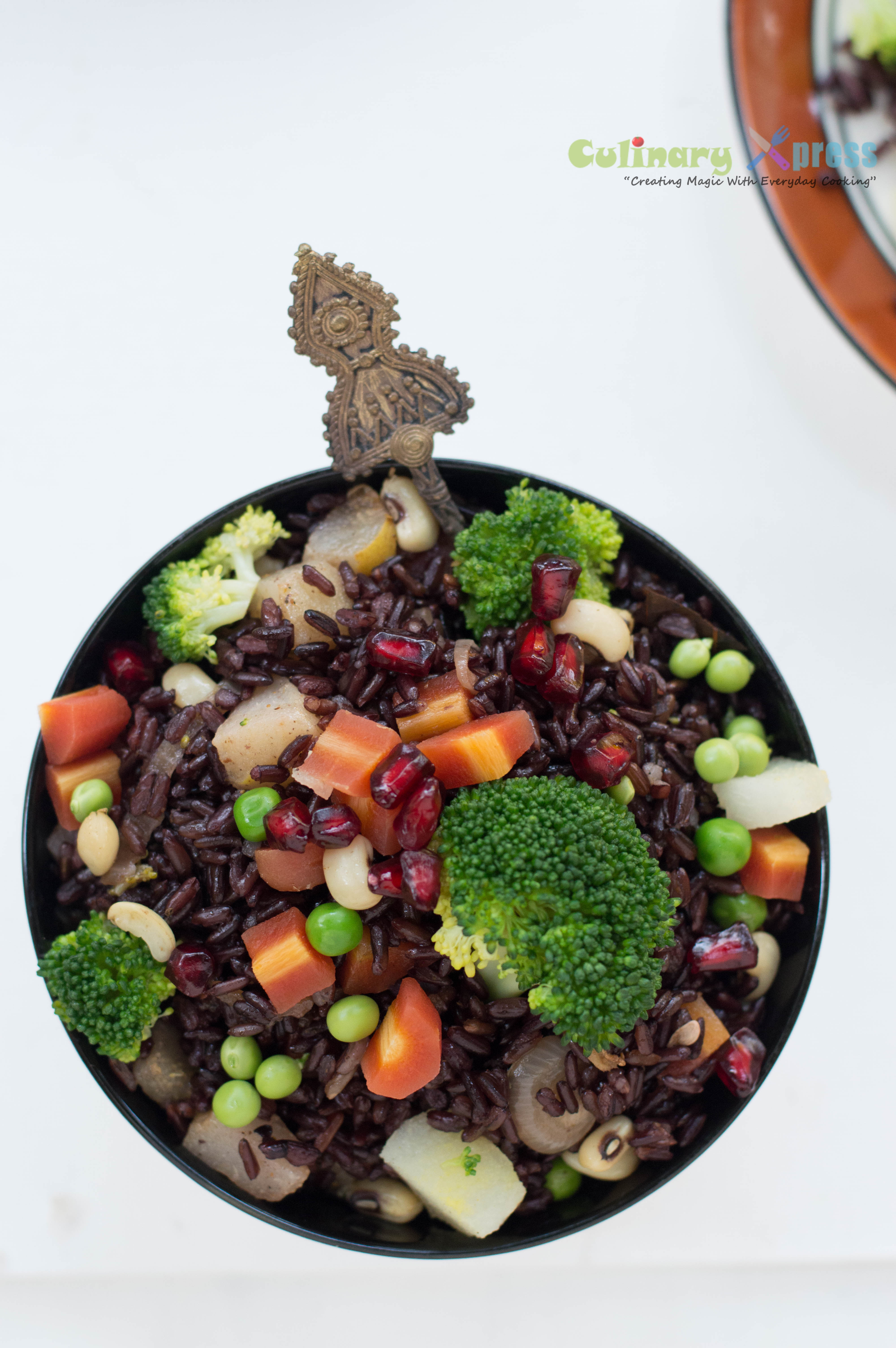 (Visited 154 times, 1 visits today)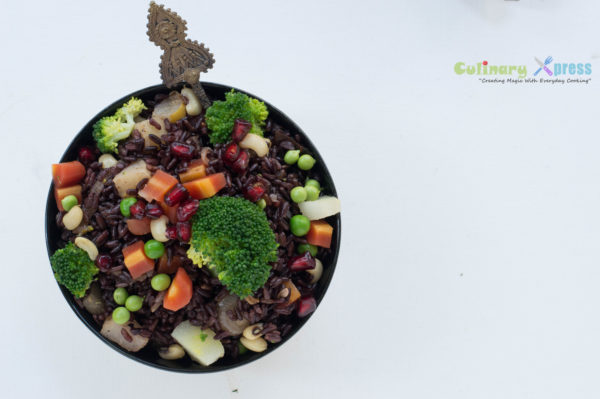 Passive Time

6 to 8

hours
Passive Time

6 to 8

hours
Soak the black eyed peas overnight. To prepare the black rice; you can either soak it overnight or simply wash it well 2-3 times, and drain. Place rice in a pot with 2 cups water and a couple pinches of salt . Cover and bring to a boil and reduce to simmer. If you are using soaked rice, check for done ness after 20 minutes, and drain any excess water. Otherwise you can pressure cook it on medium heat for 1 Whistle and then simmer and cook for 10 more minutes. The rice should be soft, yet chewy.

While the rice is cooking, prepare the vegetables. Boil brocoli, green peas, carrots and pear in hot water for just one minute and immediately transfer to ice cold water so that the vegetables does not cook further and retains its color.

Heat oil in a pan and add the cumin seeds and allow to splutter. Add cinnamon, cloves and cardamom. Stir in onion and garlic and fry till golden in colour.

Add the chopped ginger, green chillies and the boiled veggies, black eyed peas, pear and saute for two minutes. Add salt and the pre-cooked black rice. Adjust the seasoning and squeeze in the lemon juice.

Add the pomegranate jewels and serve along with some yogurt and cucumber salad.