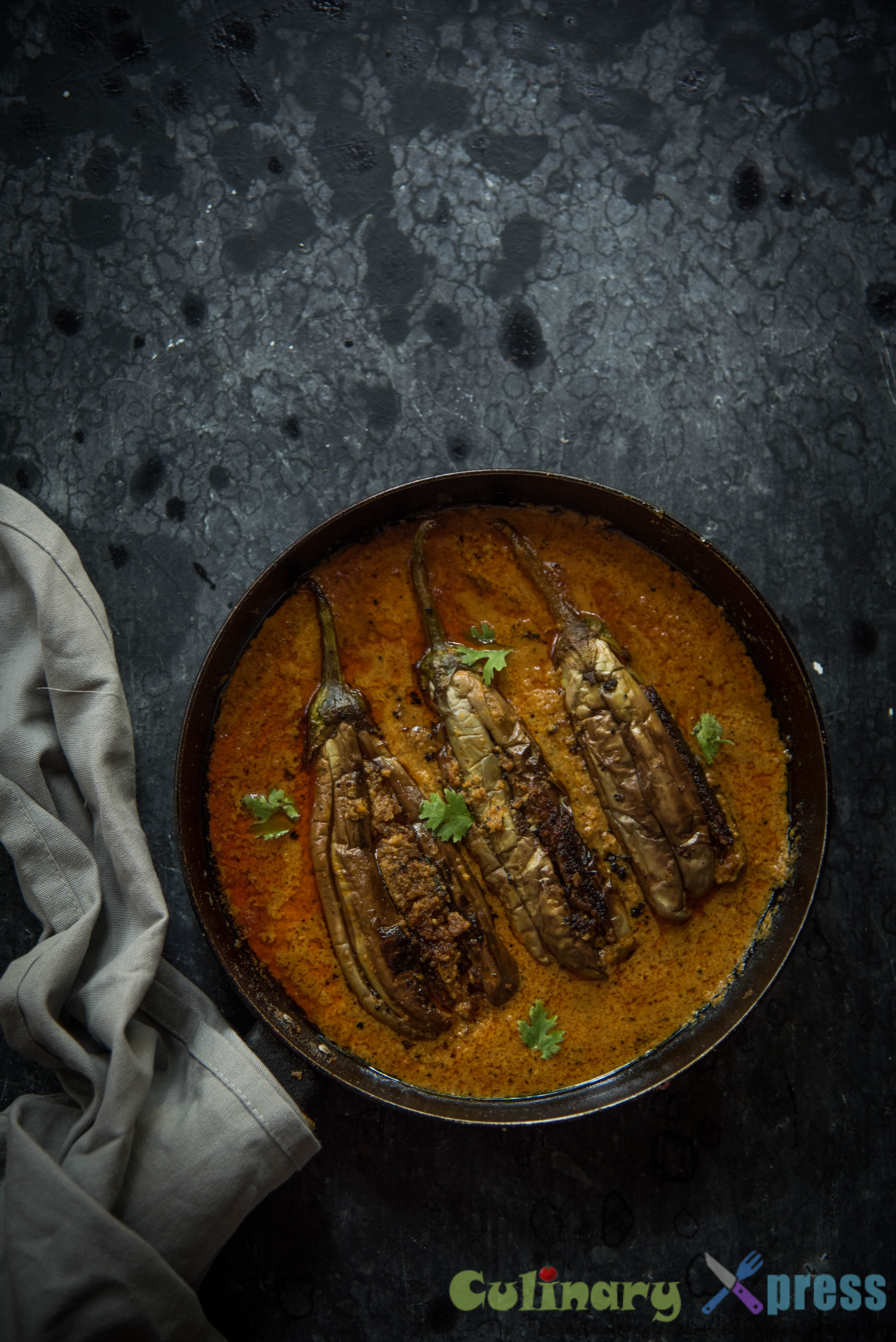 Bharli Vangi(Stuffed Eggplant) is an authentic Maharashtrian delicacy used in most of the functions like wedding, thread ceremony etc. Bharli Vangi is a spicy ,tangy curry of baby eggplants made with a stuffing made of onions, peanut powder , garlic and coconut paste and powdered spices like sesame powder,coriander powder, cumin powder and garam masala . The stuffed eggplants are then cooked in a gravy with little tamarind paste and jaggery powder .
Brinjal/Eggplant is a vegetable which many have a love / hate kind of relation.When I was a kid, I never liked this vegetable. Only when I started working and got my posting in a tribal district of Odisha, this is the only vegetables which were available in abundance. Without the presence of other vegetables, I started to accept it and include in my menu often. when I started my blog 4 years back and experienced different regional Indian cuisines, I realized to my delight the many possibilities that eggplant had to offer.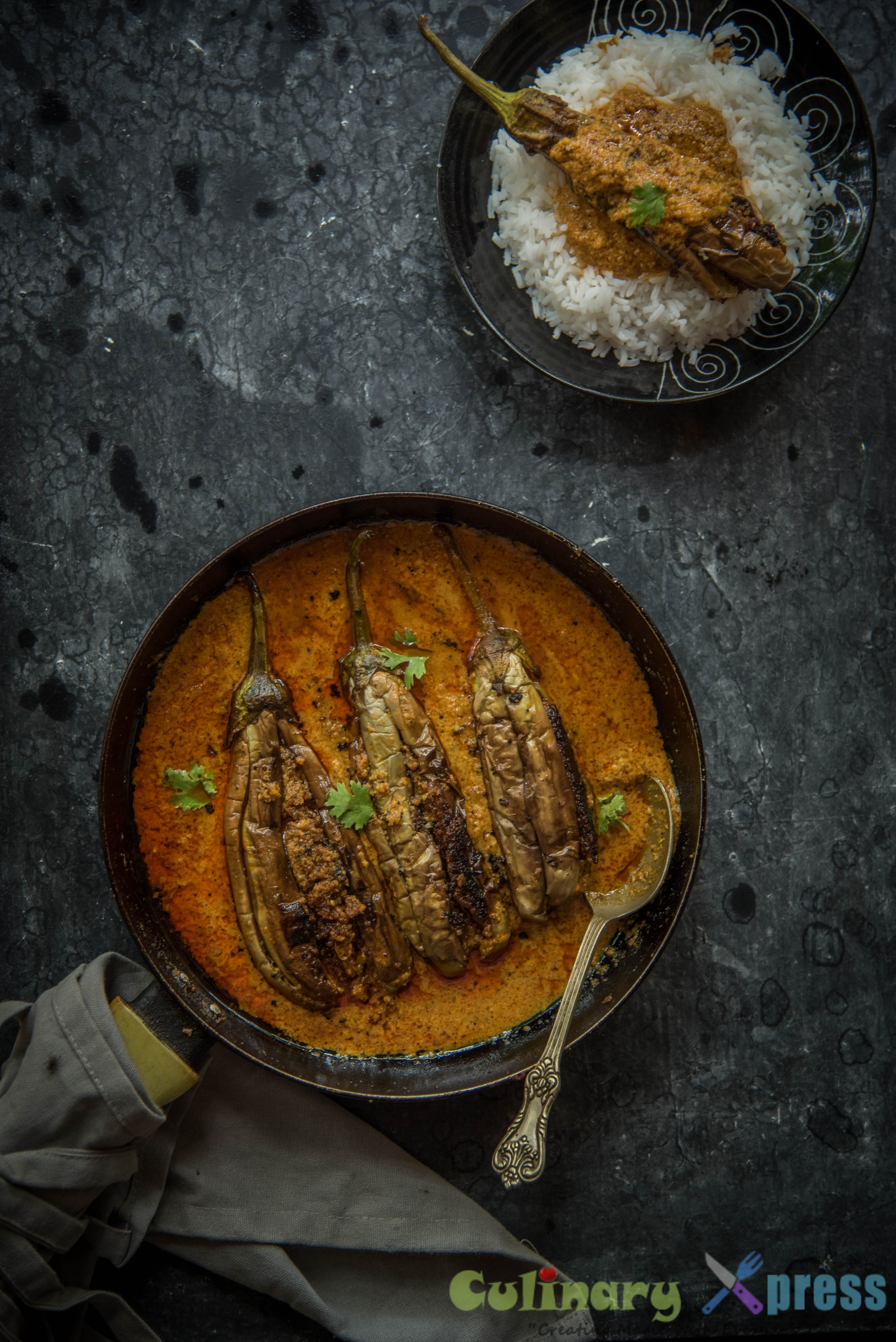 Ingredients for Bharli Vangi
To Prepare the Eggplants
Baby eggplants – 6
2 tsp salt
A bowlful of water
For the Stuffing
4 tbsp peanuts, dry roasted
4 tbsp grated coconut, dry roasted
1 tbsp sesame seeds, dry roasted
1 tbsp coriander seeds, dry roasted
1 tsp cumin seeds, dry roasted
1/2 tsp Garam masala / Goda masala
1/2 tsp turmeric powder
2 tsp red chili powder
1 tsp Jaggery
2 tsp coriander leaves
Salt to taste
For the gravy
1 onion, finely chopped
1 tsp Ginger-garlic paste
1/2 tsp mustard seeds
a pinch of asafetida
Coriander leaves – a handful, finely chopped
Salt to taste
A lemon sized Tamarind
4 tbsp Oil
1 & ½ cup Hot water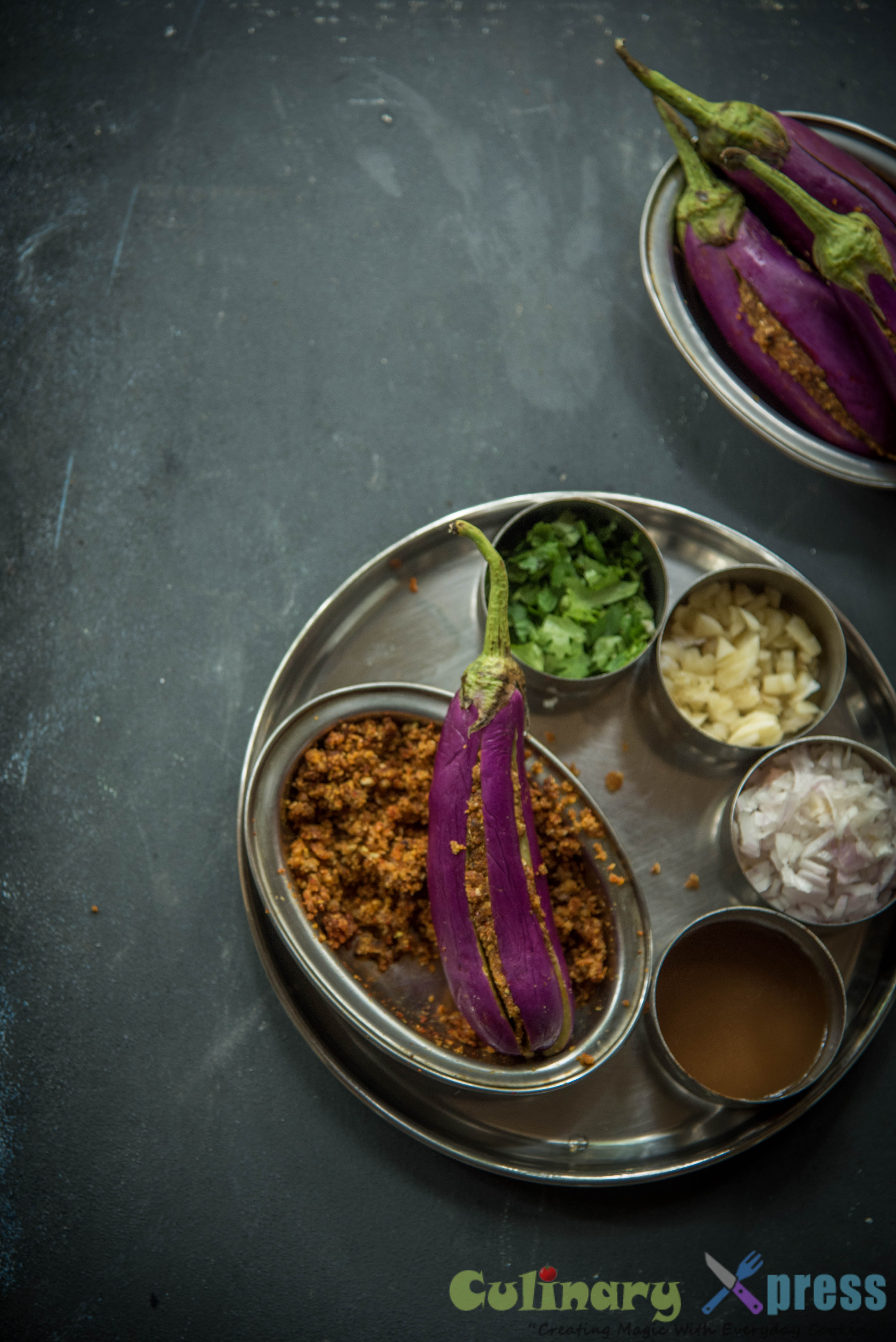 Instructions
Wash and make two slit on the baby eggplants along the length , keeping the stems intact. Soak them in a bowl of salt water for 10-15 minutes , to remove the bitterness.
Soak the tamarind in half cup warm water for 10-15 minutes. Extract the pulp, strain and keep aside.
Dry roast coriander seeds, cumin seeds, sesame seeds, grated coconut, peanuts separately and grind to a coarse powder. Add the salt, coriander leaves, turmeric powder, red chili powder,jaggery and the garam masala to it . sprinkle water on the top and mix well.

Take out the eggplants from water, pat dry them with a kitchen towel.

Carefully stuff the eggplants with prepared masala. Use your fingers to stuff it in between the slits of the eggplants. Keep the remaining stuffing for further use.

Heat 2 tbsp of oil in a frying pan.

Carefully add the stuffed eggplants and stir fry them for 1-2 minutes on low to medium flame. Flip and cook the other side also. Take out and keep them in a plate.
Heat remaining oil in the skillet. Add the mustard seeds, hing and once it starts to splutter,a

dd chopped onion and cook till the onion turns light brown in colour.

Add the ginger garlic paste and cook till the raw smells disappears. Now add the ground mixture and Sauté the mixture for a minute.
Add the hot water and adjust the salt if needed. Bring the curry to a boil. Add the fried Eggplants, tamarind paste. Cover and cook on low heat for 15-20 minutes or until the the gravy is thick and oil floats on top.

Garnish with fresh coriander leaves and serve hot with rice, onion and lemon wedges.
(Visited 115 times, 1 visits today)