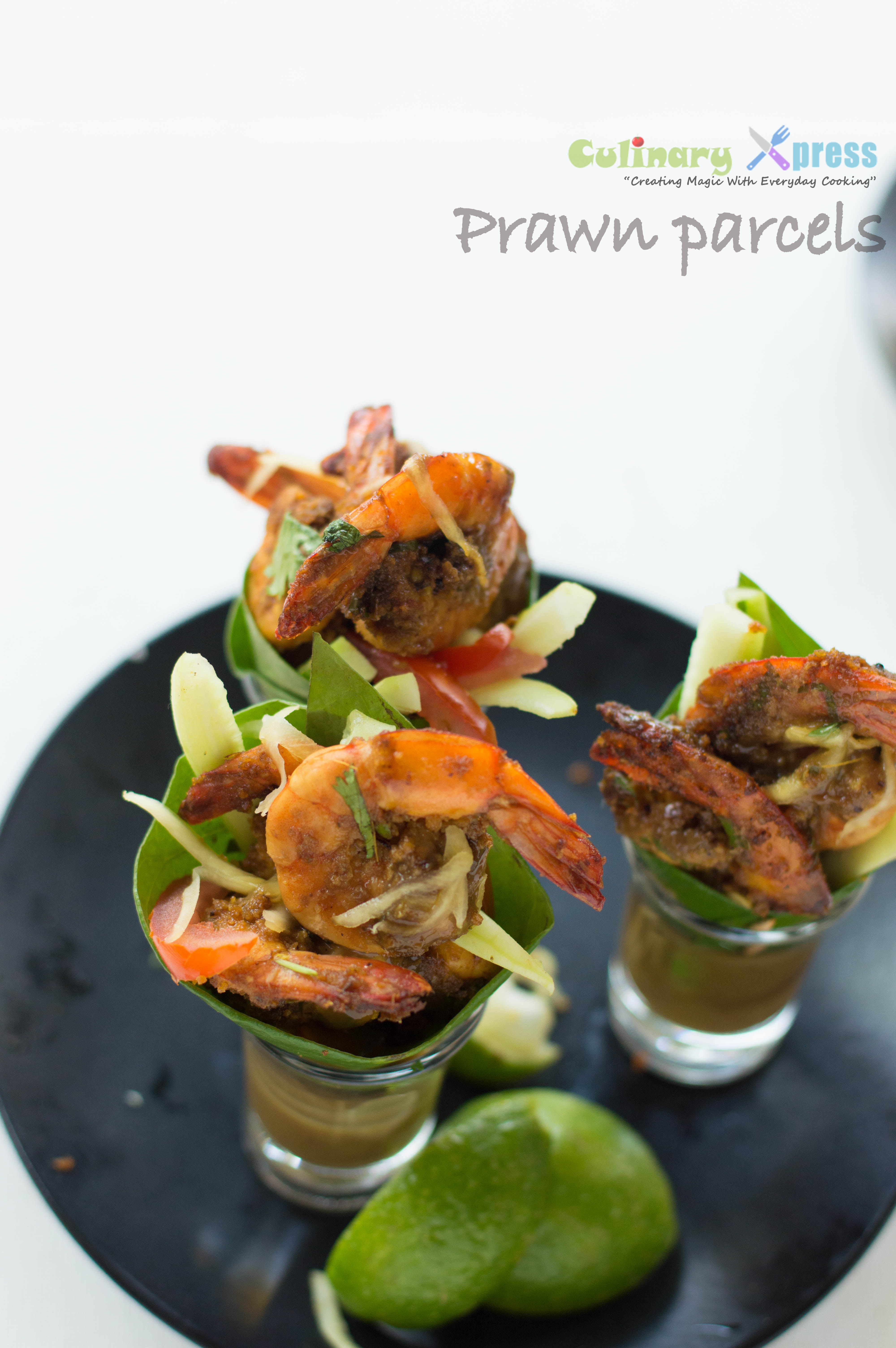 Betel Leaf Wrapped Prawn Parcels is one recipe I have been looking forward to share with my readers since long. This post is dedicated to my mother as part of our 82nd Foodie Monday BlogHop theme #women'sdaytreat as she is a true Paan Lover .
Betel leaf or Paan as it is popularly known in Odisha is widely cultivated in Chandanpur, a very small village on the way to Puri.The village is famous for it's tasty betel leafs and even sends them outside the state of Odisha. Betel leaves with a range of enchanting and mouth-freshening ingredients forms an integral part of Raja celebrations in Odisha. Betel Leaves has amazing medicinal properties and are good for digestion.
So when I got the chance to cook something for the person who made me what I am today, I was very sure what I want to cook for her. The ingredients used in this recipe are two of my mother's favorite. First she does not eat chicken , so  that leaves me with three option, fish, prawn and mutton. Fish I have to let go as there are a lot of recipes which I have already shared in my blog, which I have learnt from her. You can check all these recipes Here. So I have decided to use prawn and make something interesting with it. I have taken Paan which she loves and paired it with Prawn to come up with this amazing appetizer.
To cook this appetizer, I have deconstructed the Paan which is a mouth freshener and is usually had after a heavy meal.It basically contains areca nut, sweetened coconut, rose petal jam, camphor, roasted fennel seeds, cashew and many other things depending on the person's preference . So I have used the rose petal jam or Gulkand used in Paan as my marination along with the shredded Paan Leaves.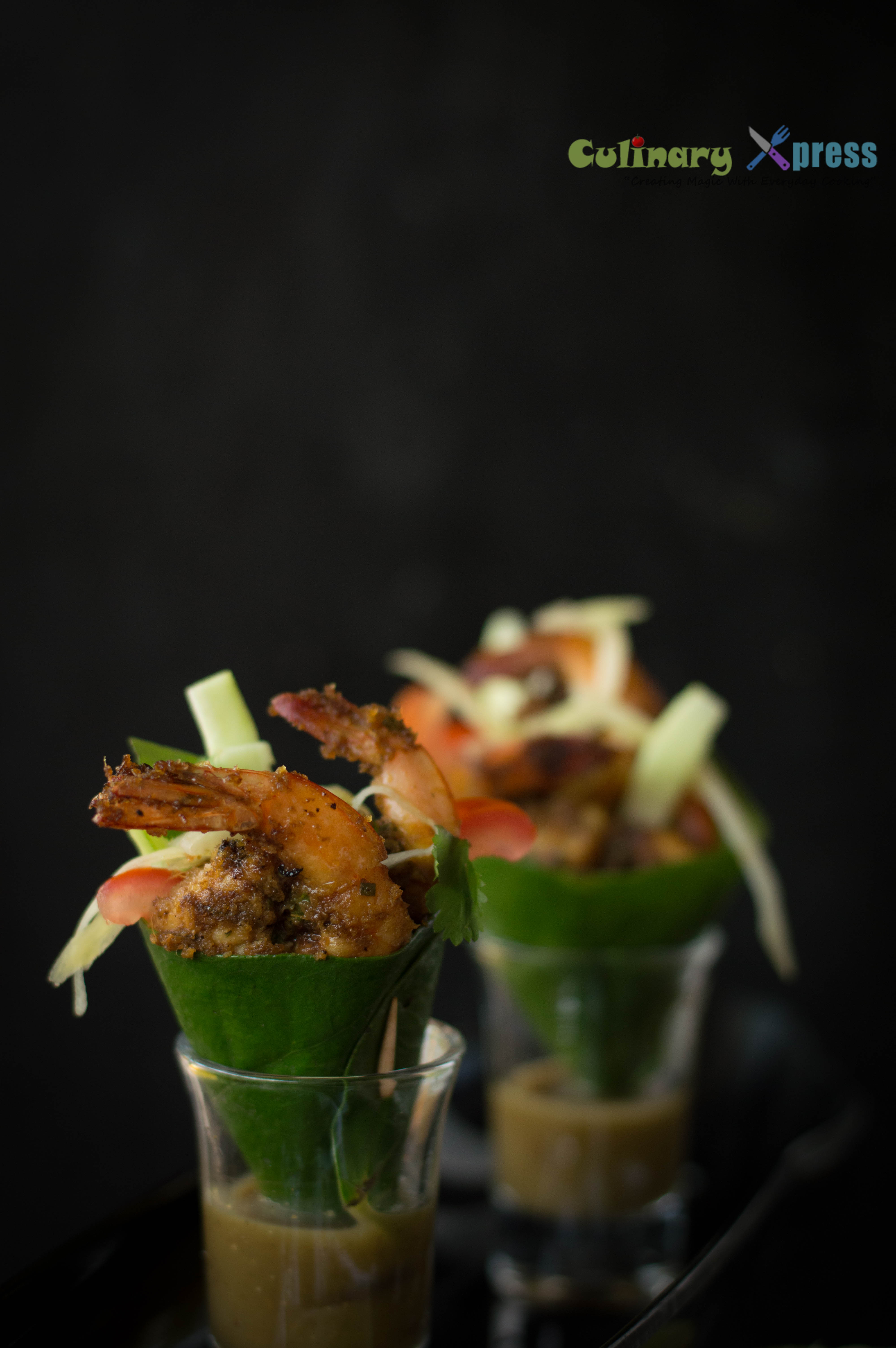 Wrapping the prawn in paan leaves, using cloves to seal them to look like freshly rolled paan is my idea of presenting a simple dish in modern way. When I was cooking the prawns marinated with ginger, garlic paste, gulkand and finely shredded paan leaves, the entire house smells heavenly. I Served with a raw mango , mint and gulkand chutney.  I personally like them without the wrapper as I have never tasted Paan since childhood. But my family loves it with the paan wrapper and gave their thumbs up which is why I am sharing this recipe with you all.
The prawn is cooked perfectly with quite a bite of bityness to it, but still remaining tender on the inside without being chewy and  the addition of cucumber, tomato and raw mango adds tons of different textures to make this a really enjoyable little parcel to chuck into your mouth.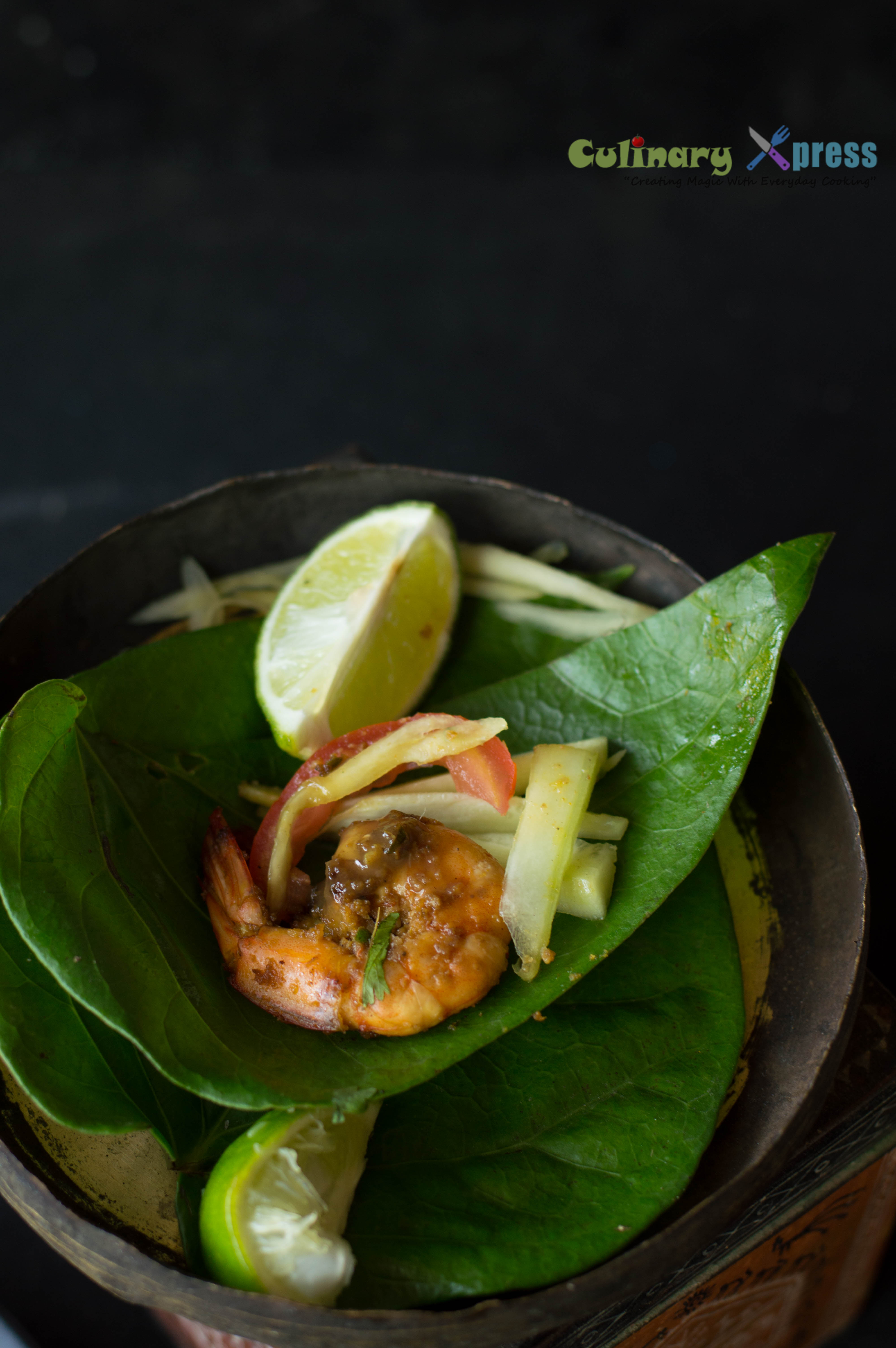 To top it all, there was this raw mango and mint chutney made with Gulkand which added some lovely creaminess as well as some chewy texture. This will coat your entire mouth as you were eating it, giving it some great depth and making it feel a lot more filling. I really enjoyed making this appetizer and it is a must try recipe for your Party. If you are a vegeterian, you can prepare this with paneer or Tofu.
Let's celebrate the spirit of being a woman and celebrate each and every day in our life as Women's Day and do not forget to remind yourself everyday to Be a woman with a voice ….

(Visited 299 times, 1 visits today)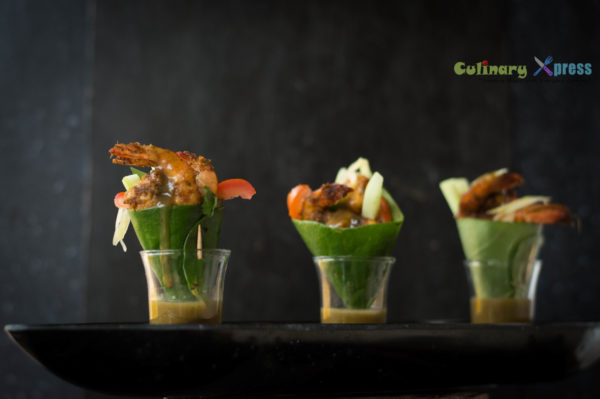 | | |
| --- | --- |
| | |
Clean, wash the prawns. Marinate the prawns with salt, turmeric, lemon juice, ginger garliuc paste, gulkand and 2 nos finely chopped betel leaves and keep aside for 10 minutes.

Now, wash and chop the cucumber, tomatoes in thin slices and keep aside. Grate the raw mango and keep 1/4 cup shredded mangoes aside.

Now grind the shredded mangoes, mint leaves, Gulkand, salt and cumin powder in a grinder to a smooth paste. Add a little water and make a sauce consistency. Check the seasoning and keep aside.

In a pan, heat the oil and fry the prawns for 30 to 40 secs on both side and keep aside.

To assemble the parcels, take a betel leaf and cut into two parts. Keep 2 to 3 prawns, some cucumber, tomatoes and shredded raw mango and wrap it like a Paan and stick the ends with a clove .

Assemble all the parcels . Put some chutney on the shot glasses and place the paan wrapped Prawn parcels in each one of them. Serve with lemon wedges, chopped coriander.