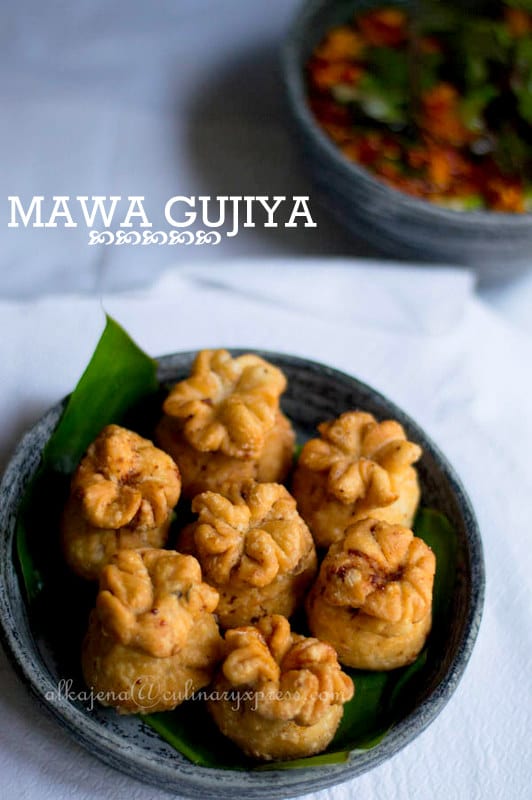 Any festival in India is incomplete without dessert. Holi is one such festival which is about a riot of colors and can hardly be complete without a hearty dose of mawa gujiyas – a recipe made with dough stuffed with a sweet filling mawa and deep-fried. Gujiya which is a fried crispy flaky pastry stuffed with sweet mawa filling is one of the staple dessert prepared especially on Holi festival. On this Holi, let us learn how to make gujiyas/mawa gujiyas at our home and serve it  with thandai, which is a delicious beverage.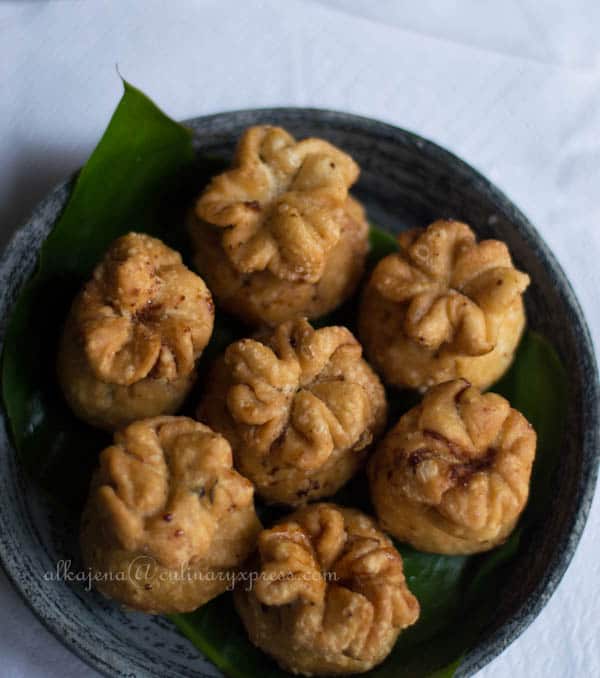 Gujiya, Karanji or Chandrakala is a very popular dessert which is prepared in most households during festive occasions like Holi, Diwali, Dushera etc. This sweet dish is a celebration of deliciousness in the festive season of Holi. Traditionally this Holi special gujiya is stuffed with Khoya/mawa, chopped almonds, walnuts, pistachios raisins, green cardamoms, and nutmeg to enhance the flavor .
Gujiya is known as different names in different parts of the country like Kajikalayu in Andhra Pradesh,Nevries in Goa, Karachika in Tamil nadu, Ghughra in Gujarat, Karanji in Maharastra & Odisha, Chandrakala in northern part of India, They all are similar in making but have different ingredient in stuffing.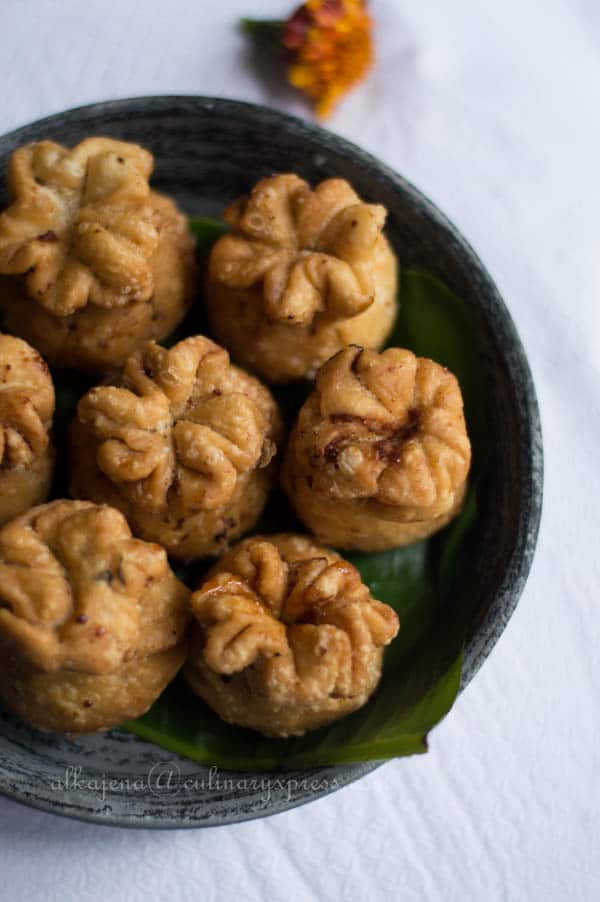 The outer layer is made from all purpose flour. While the stuffing is made from mawa, sugar and nuts. Gujiya is not an overly sweet dish. It has a crispy, flaky exterior with a cardamom flavored sweet filling. Today, am blogging Mawa Gujiya where khoya/mawa is used in place of sooji (semolina).  There are many different variation is stuffing recipes like made with sooji or dried fruits and jaggery. The authentic gujiya has stuffing of sweet mawa or khoya. Hence it is known as Mawa gujiya as well.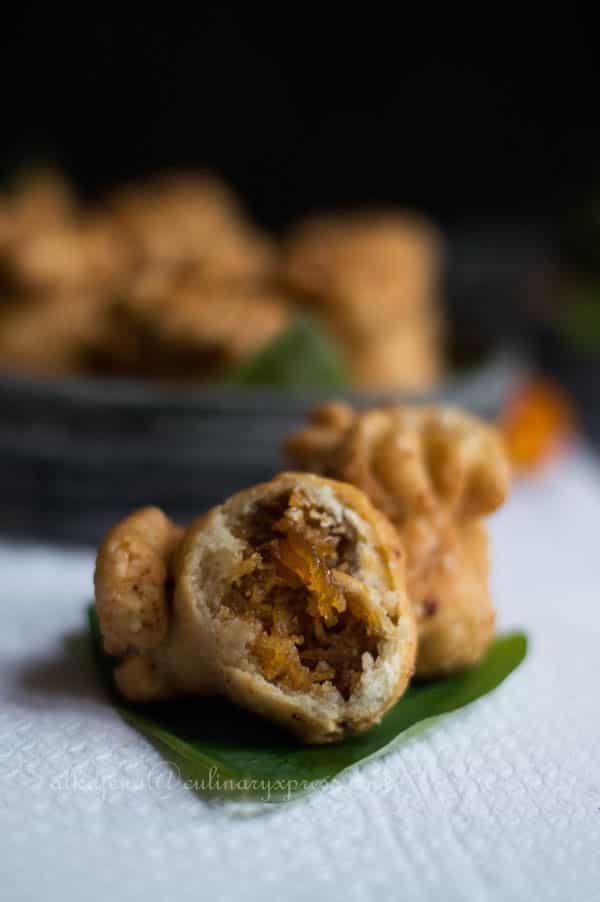 Gujiyas have come a long way now, and along the way, new shapes and fillings have emerged. You can try the croissant shaped savoury ones, the rich shahi gujiyas, the sweet samosas, the fragrant clove flavoured laanglata, the saffron tinged kesari ones, the coin purse-like potli gujiya and the phool gujiya, that are garnished with petals from the Lotus.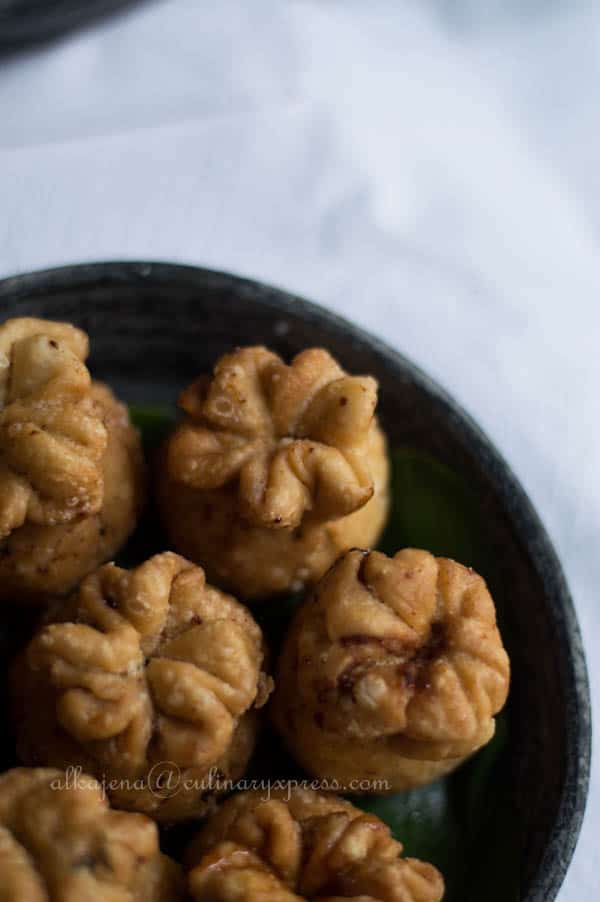 But gujias can be calorie-rich due to the fact that it is fried and filled with mawa or khoya. If you are watching what you eat this Holi, and would like to cut back on the calories, you can try this Potli Gujiyas  which is not fried but Baked. This will help you keep the weight off this dessert and will allow you to enjoy it, minus the guilt.

(Visited 265 times, 1 visits today)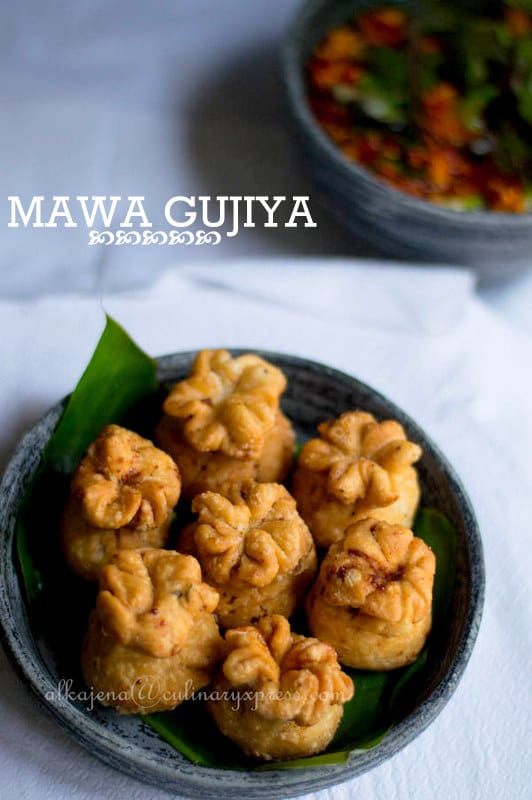 | | |
| --- | --- |
| | |
For the pastry, sift the flour into a bowl and rub in the ghee with your fingertips till the mixture resembles breadcrumbs. Add one-fourth cup and one tablespoon of cold water and knead into a stiff dough. Cover with piece of damp muslin and set aside for fifteen minutes.

IF USING FROZEN MAWA, MICROWAVE FOR 20-30 SECS OR LET SIT ON THE COUNTER FOR 20-30 MINS TO THAW. ONCE THAWED, GENTLY CRUSH WITH YOUR FINGERS MAKING SURE TO BREAK ALL THE LUMPS FOR A CRUMBLED MAWA. IF USING FRESHLY HOME MADE MAWA, MAKE SURE IT IS CRUMBLY BEFORE USE.

For the filling, heat a non-stick pan; add the khoya and sauté for three minutes or till the fat separates. Set aside to cool.Add the cashew nuts, almonds and raisins, grated coconut, jaggery and mix well.

Divide the dough into equal portions and shape into balls. Roll out each ball into a puri.

Place one portion of the stuffing in the middle , lightly moisten the edges, and bring all sides together to make a potli like design as shown in the picture above.

This is not tough at all. Here you have to pinch it upwards and bundle them.It doesn't have to be perfect,just make sure it sticks well so that it doesnt open up during the baking process.

Preheat oven to 180 degree centigrade. Grease the baking tray or line a butter paper in a baking tray. Line the gujiyas in baking tray. Coat the gujia with ghee (clarified butter) and honey. Bake for 18-20 minutes. After 10 minutes, turn the sides and brush with ghee and bake till they are golden.