American Chopsuey is a delicious savory dish prepared with crispy noodles and saucy stir-fried vegetables, is an Indian adaptation of popular American dish.Chop suey is not Chinese but is a Chinese American dish which originated in the mid to late 19th Century.Chop suey consists of small pieces of meat or chicken or shrimp stir fried with celery, onions, bean sprouts, water chestnuts, mushrooms or other vegetables and served over rice usually with soy sauce.
I really donot know why this dish is called American Chopsuey, but it is one of the most common recipe on the Chinese restaurants in India.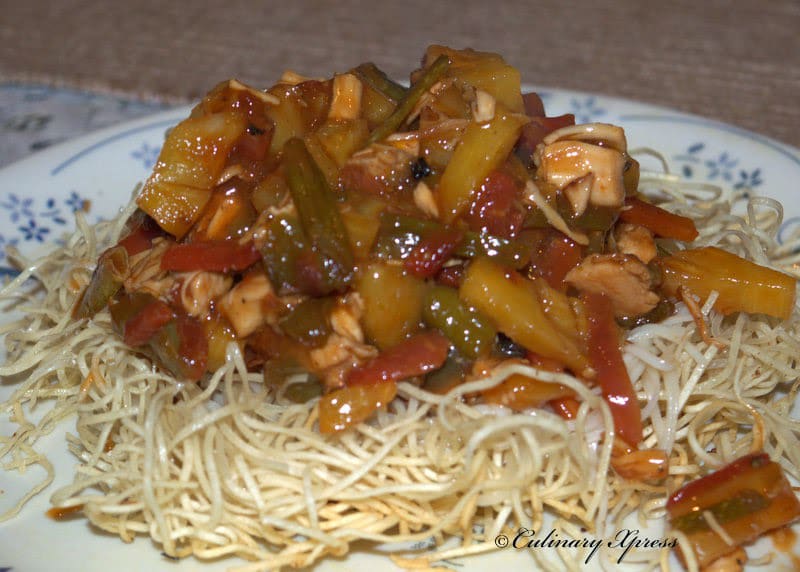 (Visited 350 times, 1 visits today)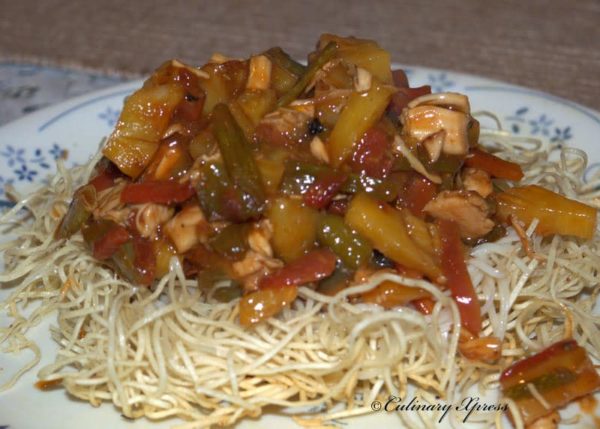 | | |
| --- | --- |
| | |
Boil the chicken with 11/2 cup of water, black pepper, salt till soft so that we can shred the chicken into long stripes. Keep aside the stock for use.

Cut all the vegetables of your choice into long strips and keep aside.

Heat 2 tbsp of oil in a pan and add ginger, spring onion, carrots, Bell pepper, Chilli powder and salt.

Stir fry over high heat for a minute before adding the shredded chicken pieces and the pineapple pieces. Fry for another couple of minutes. Make sure the vegetables are crunchy and not overcooked.

Add tomato sauce, Chilli sauce, soy sauce, Sugar, Vinegar, chicken stock and bring to a boil.

Mix cornflour with cold water in a mug , mix well and pour this to the boiling sauce.

keep stirring till the sauce becomes thick. Make sure it is of medium consistency, not too thick nor too watery.

How to prepare the Noodles:

Boil water with salt.  Once it starts boiling add the noodles. Cook uncovered for a couple of minutes till the noodles are soft and firm.

drain and wash with cold water. Add a little bit of oil to keep the noodles from sticking .

Heat plenty of oil in a deep frying pan for frying the noodles. Fry the noodles  till crisp and remove from the heat and keep on a kitchen towel to absorb any amount of excess oil.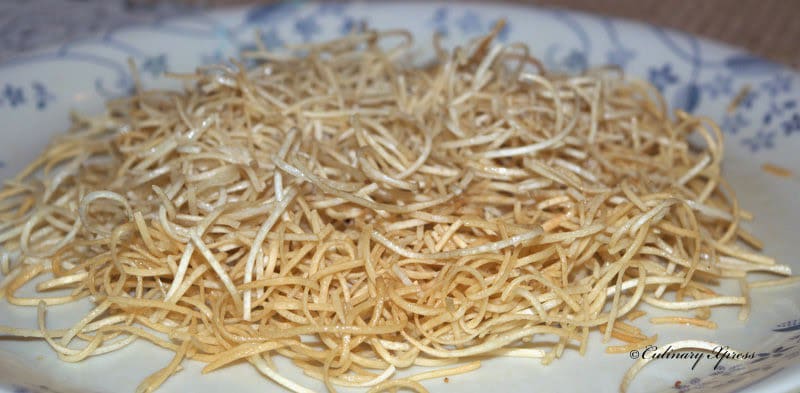 How to assemble the Chopsuey:
To serve the Chopsuey,  place the crispy noodles in a serving plate. Pour the Chopsuey sauce over it.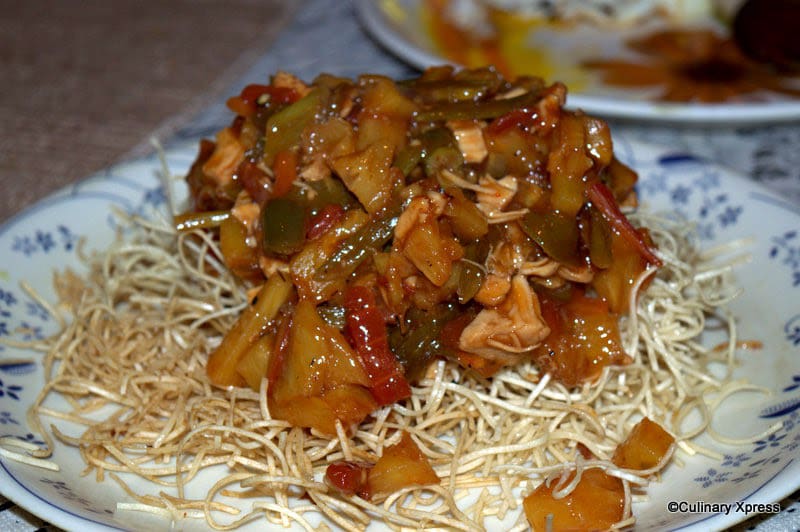 Serve immediately. Pour sauce over crispy noodles just before serving. This will let you enjoy it while the noodles is still crispy.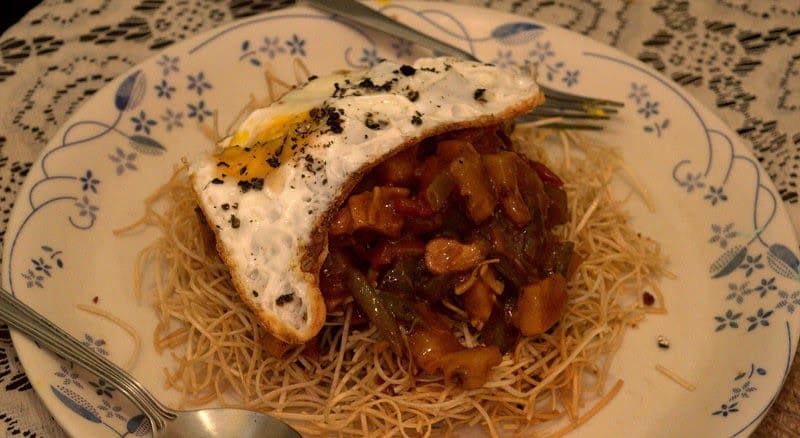 You can serve a poached egg over it for extra zing..This is purely optional and you can skip if you donot like it.
The combination of crispy noodles, crunchy vegetables topped with sauce and egg makes it look and taste appetizing. But the crispy fried noodles, with lots of vegetables and a thick sauce essentially made of tomato ketchup and soy sauce is a favorite because of its sweet and sour, but not too spicy preparation.