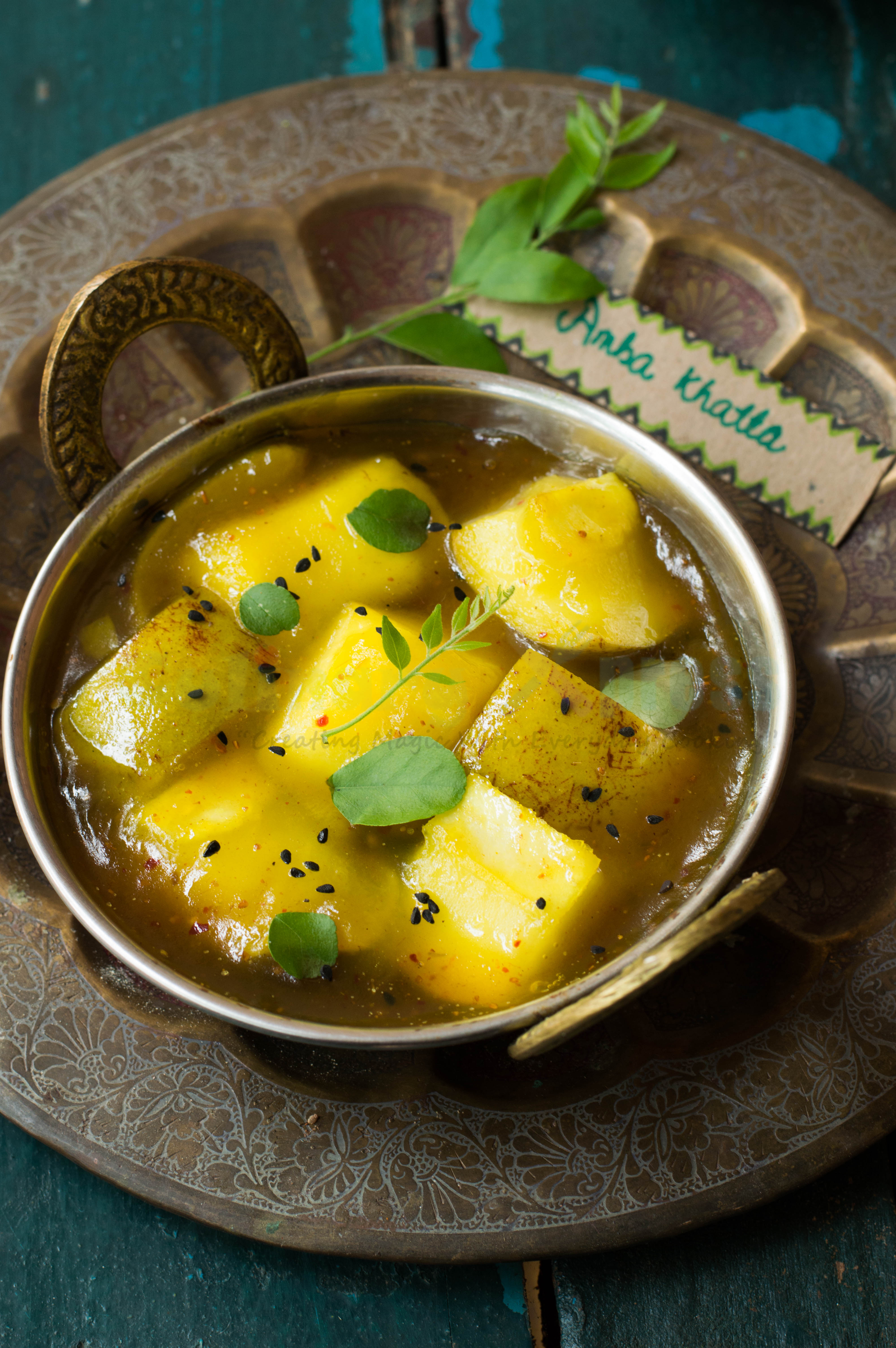 Amba Khatta or sweet & sour raw mango relish is a typical odia dish which is a common accompaniment to tantalize the palate in any odia function especially during marriage and puja. In Odia , mango is known as Amba and khatta basically means tangy.This Amba Khatta is a beautiful blend of sweet , sour and spicy with the wonderful mingling flavors of the nigella seeds.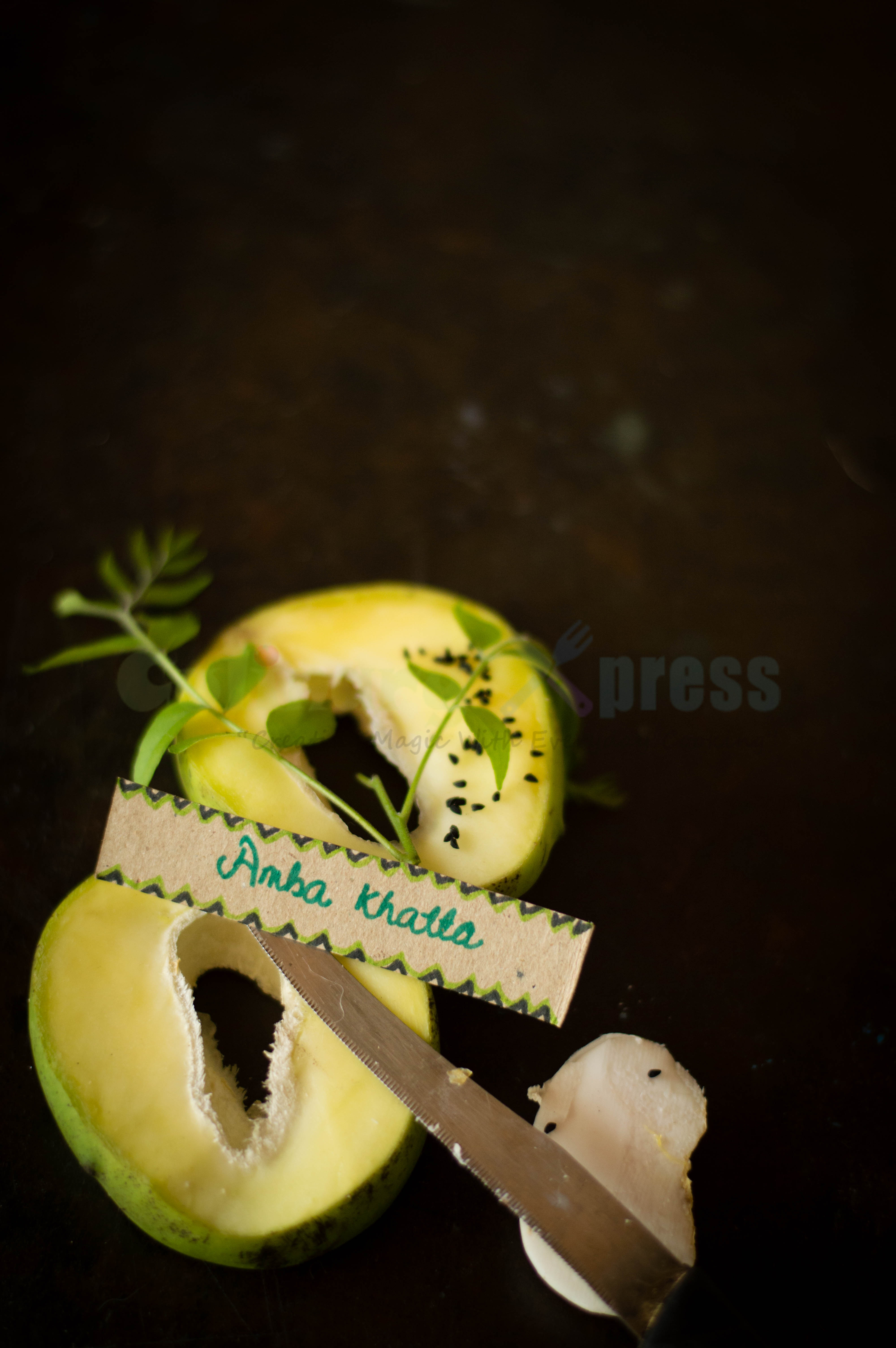 It is basically a side dish which is sweet in taste, as mangoes are cooked with a sugar or jaggery, tempered with typical spices. Amba Khatta is one of the dishes which every young girl learnt under her mother's supervision. Every time it turned out so yummy that I used to finish a big bowl of it without even realizing. Whenever it is made in my house, as a child, I would just take it in a small bowl and use my fingers and tongue to lick the juicy mango away.
Odia cuisine has different varieties of Khattas like Tomato – Khajuri khatta( Tomato and Dates ), Tomato khatta( Tomato), Amba Khatta(Green Mango), Sapuri Khatta(Pineapple), Ambada Khatta, Oau Khatta(Elephant apple), Kandamula Khatta(Sweet Potato), etc.This sweet and tangy dish can be served with paratha, khichdi or poori but is mostly preferred with steaming hot rice. It is also consumed during religious occasions because of the exclusion of onion and garlic.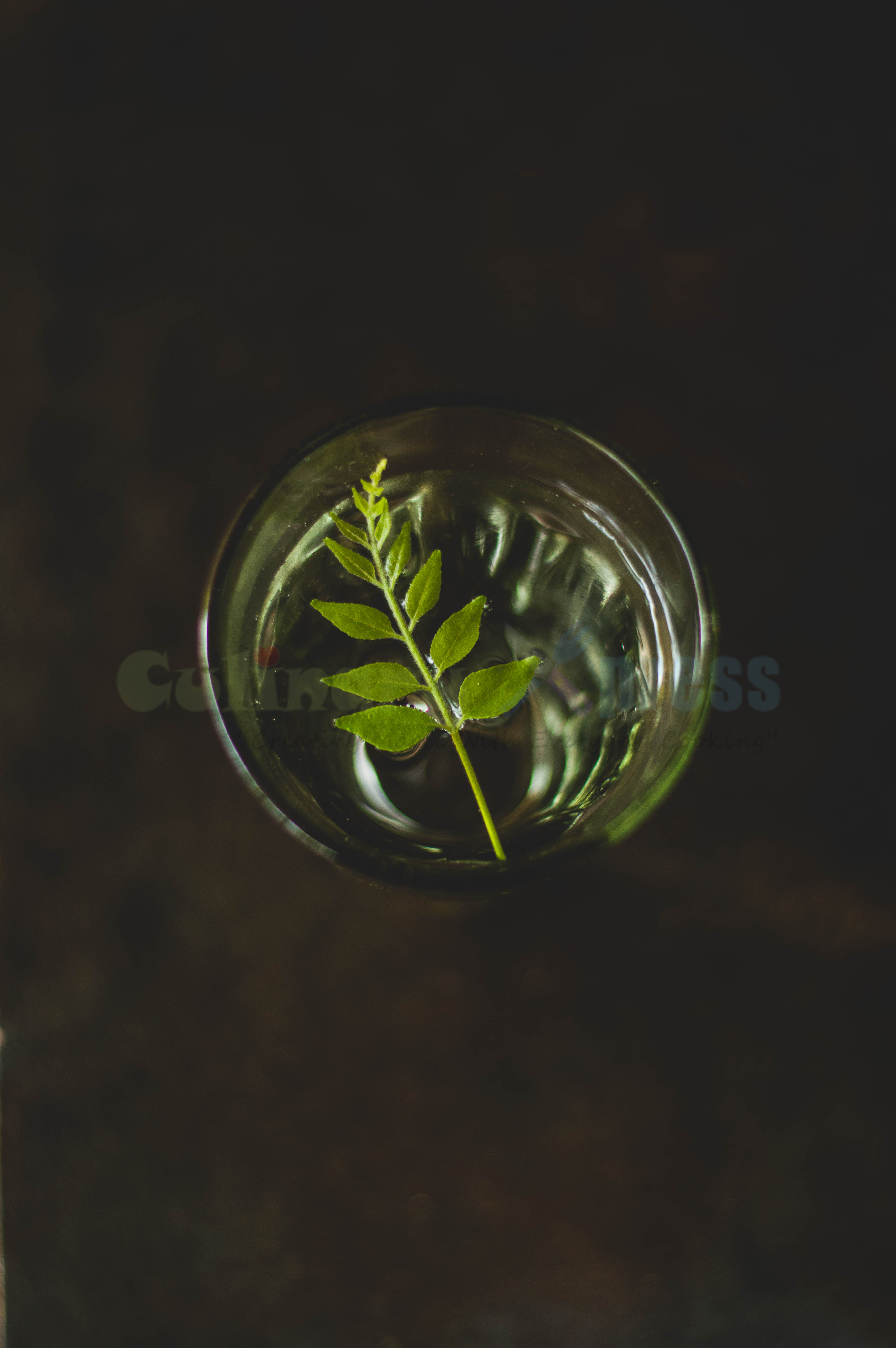 Green or raw mangoes are now being flooded in the market and there are so many things that can be done with raw green mangoes. Like every odia household, I am also gearing up this year for making varieties of dishes out of green mango besides the
CHUNDO
, Achar and
Aam Panaa
.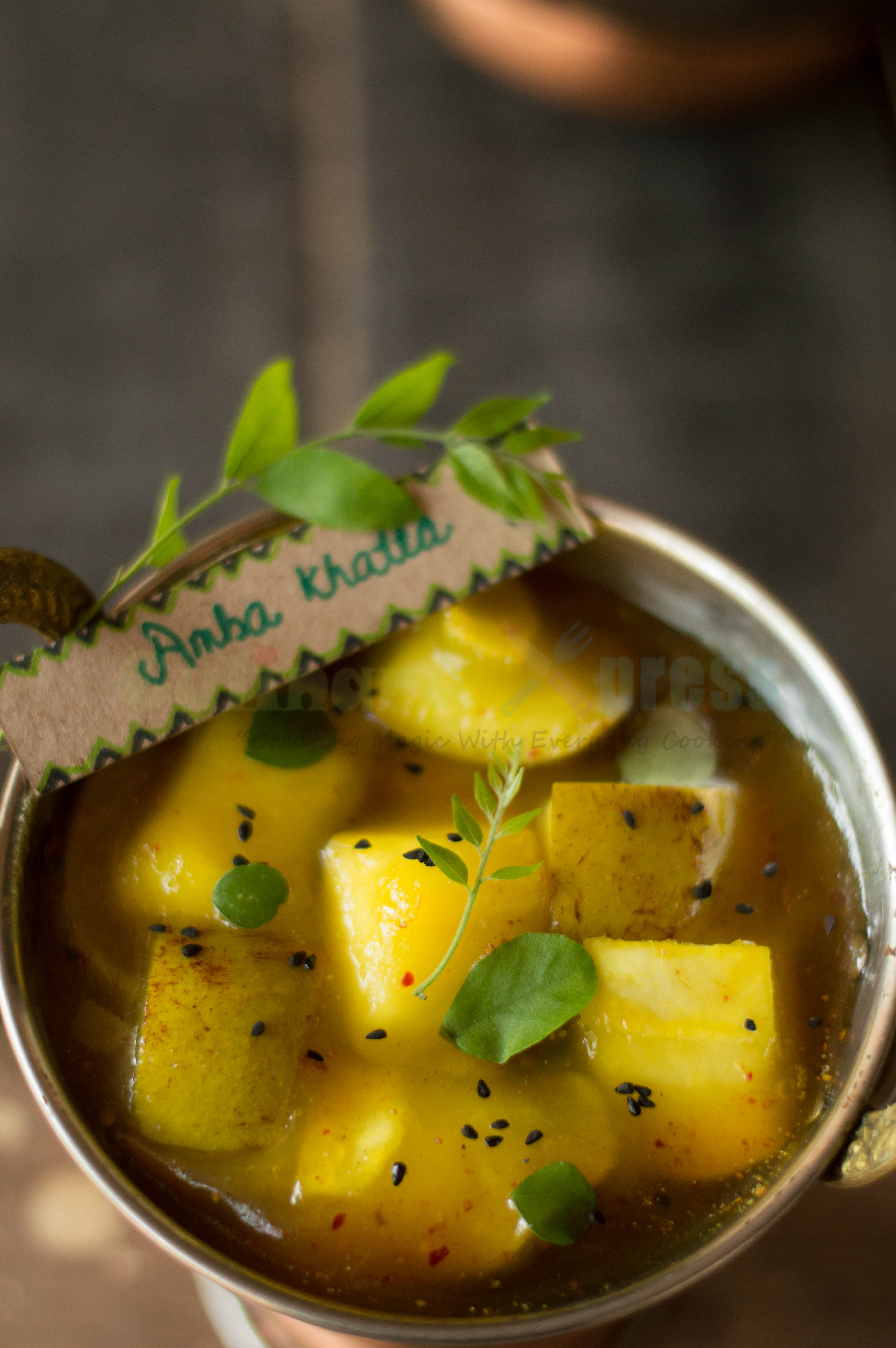 When our Foodie Monday BlogHop team decided on the theme of #Nigella seeds , I first thought of making Nimki or Baigani which are quite popular odia snacks. But the temperature in Bhubaneswar has already nearing  40 degree and I cannot think of making fried stuffs for us. So I stick to this Amba Khatta which is quite easy to make but I must warn you, once you have this, you will feel like having it more often. This recipe also uses the Pancha Phutana , but I have only used Nigella seeds in this recipe.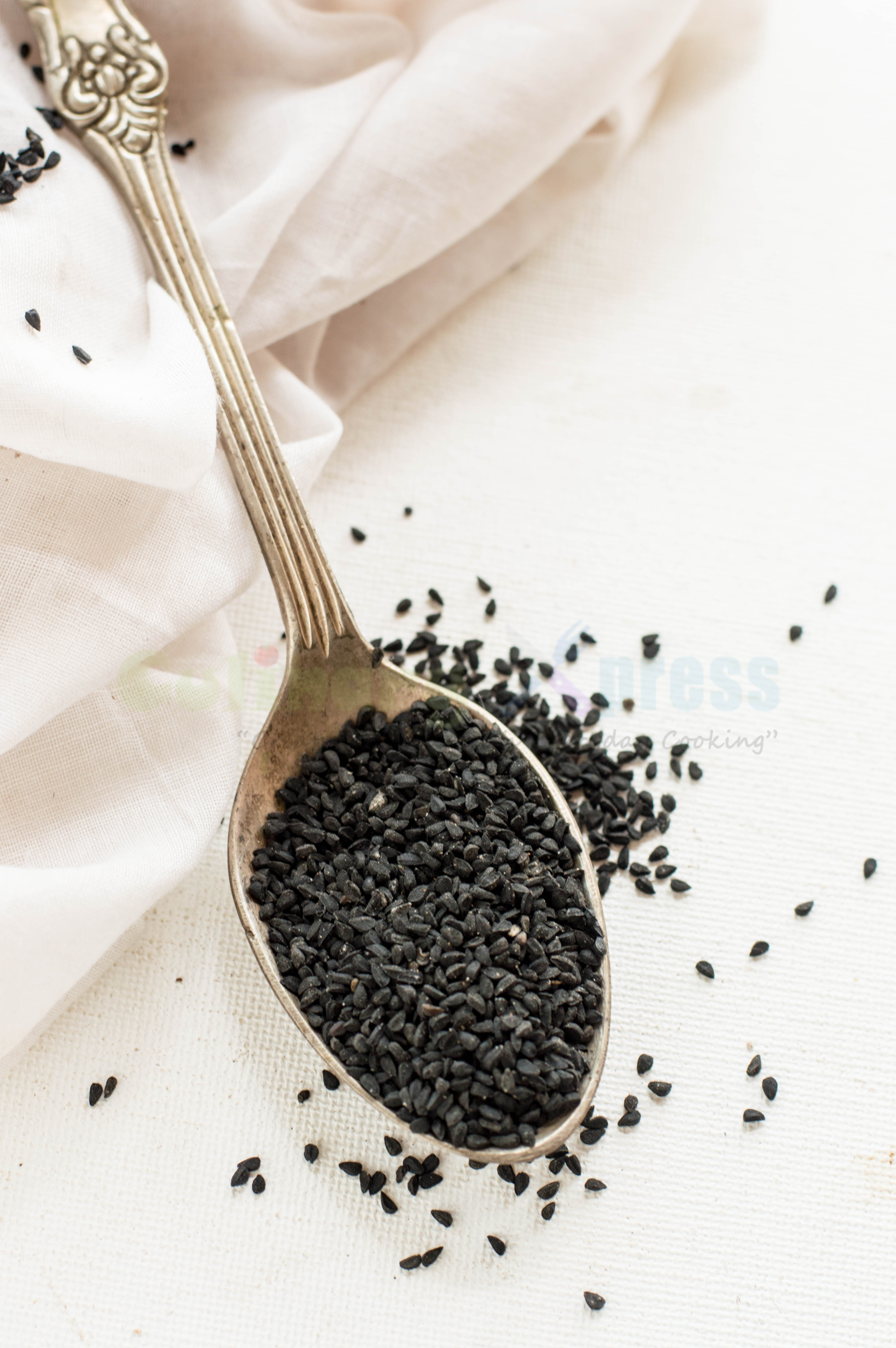 (Visited 424 times, 1 visits today)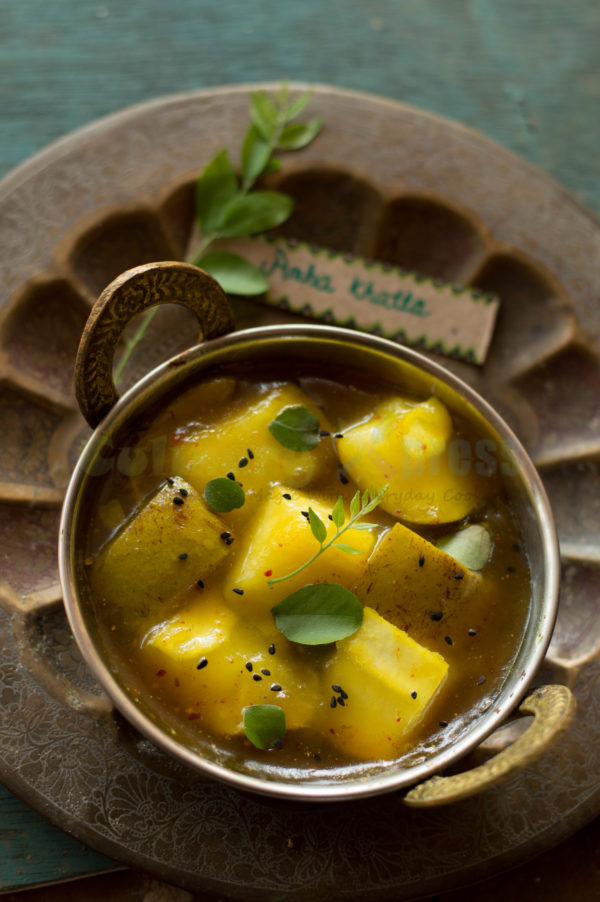 | | |
| --- | --- |
| | |
wash and peel the mangoes. Cut them into cubes and keep aside. I prefer to have the peel on while making the khatta.

Heat the oil in a pan, add the nigella seeds, dry red chillies and curry leaves. Add the raw mango cubes, salt and turmeric, mix well and cook on a medium flame for 2 minutes, while stirring continuously.

Add ¼ cup of water, sugar and mix well. Cook on a medium flame for 2 to 3 minutes, while stirring occasionally. Turn off the heat and add the roasted cumin and red chilli powder.

Serve as a side dish with rice , dal , curry.