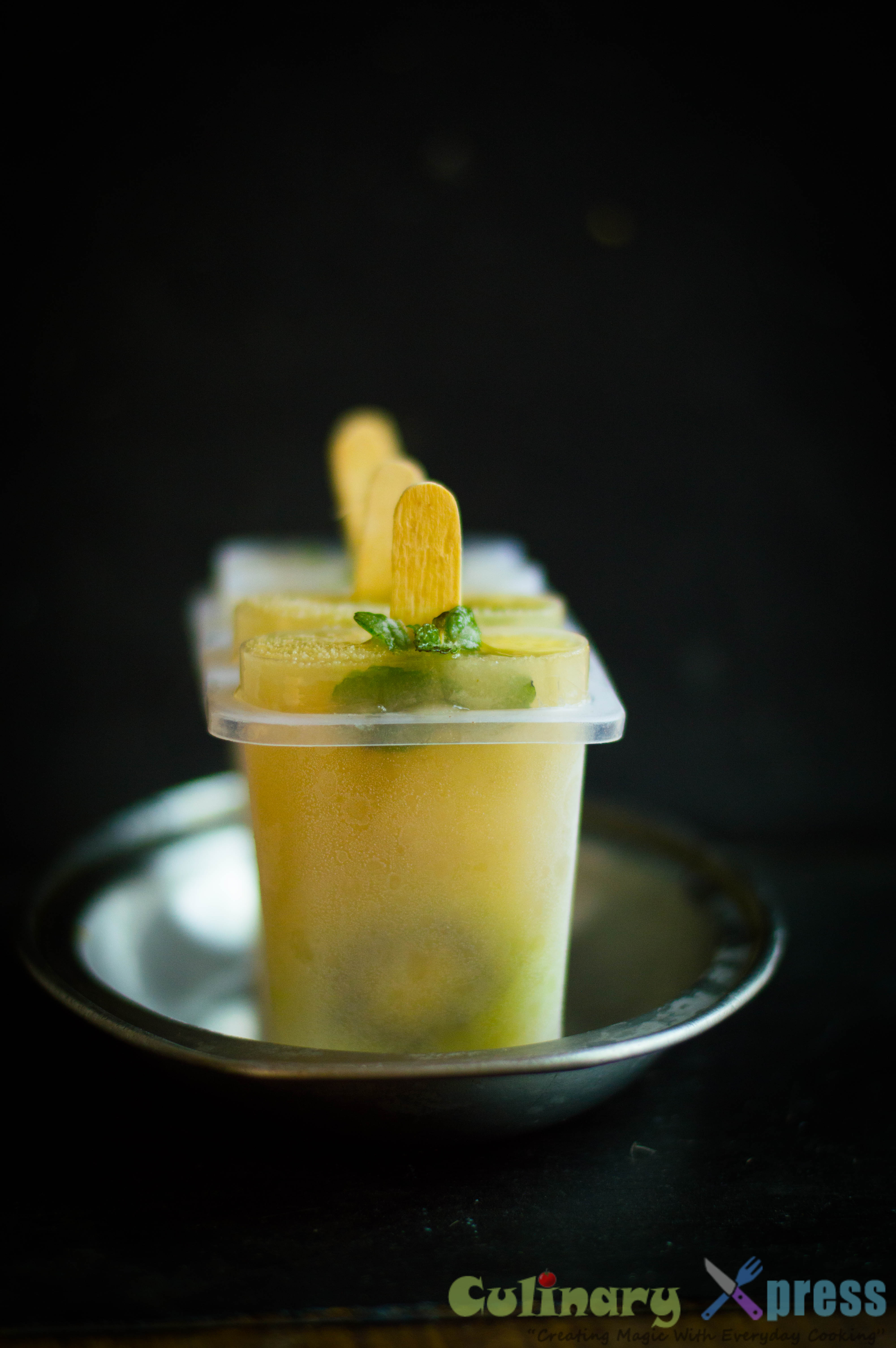 Summers are the time for fresh chilled drinks and there's nothing better than to beat the heat in a desi way with these Aam Panna Kiwi Popsicles . These popsicles are a break from the routine sweet popsicles. It not only quenches your thirst but is also considered beneficial for the treatment of gastrointestinal disorders.This really interesting recipe of the Aam Panna Kiwi Popsicles can be made easily at home. It is prepared with all the fresh healthy ingredients.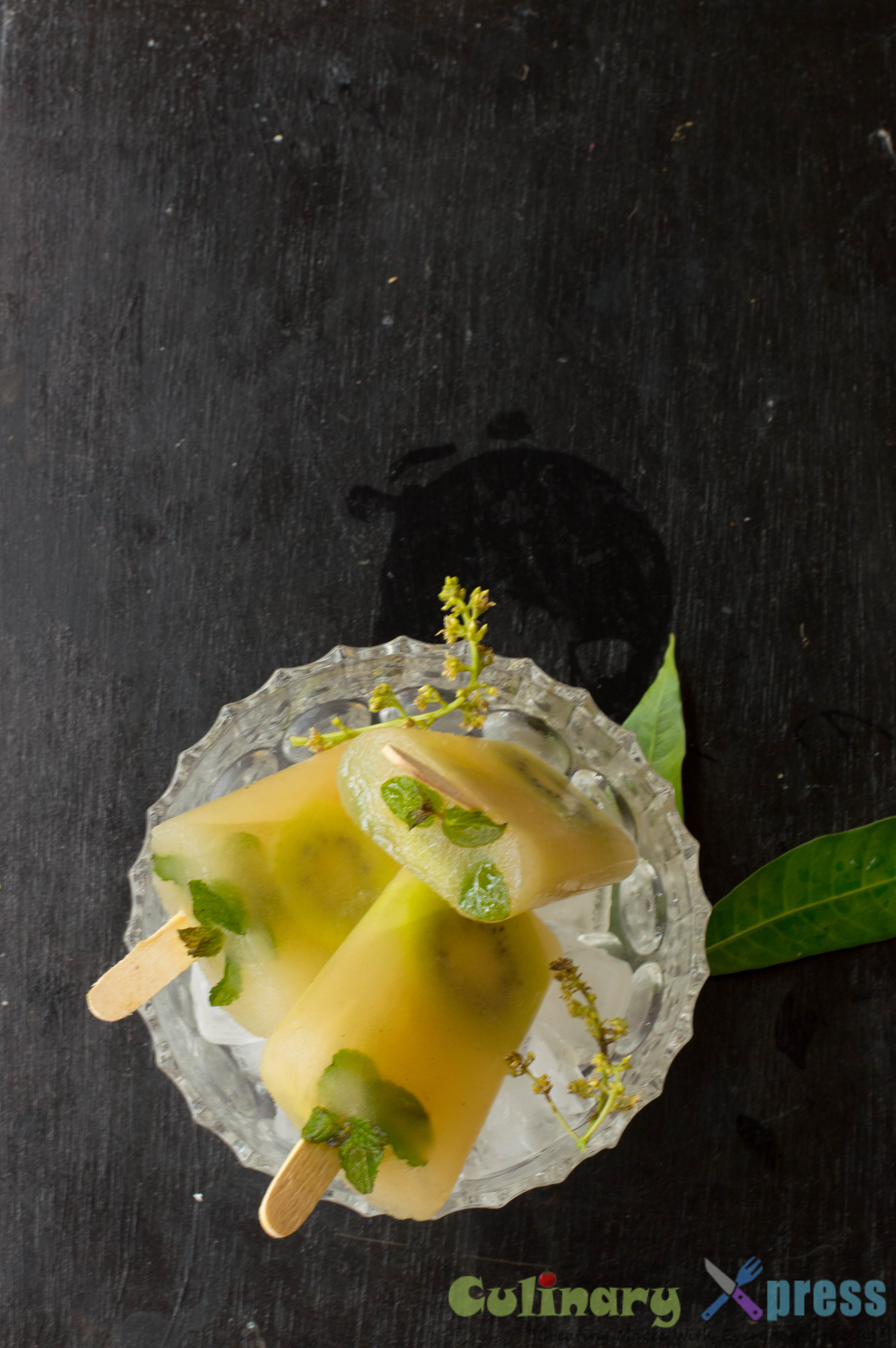 Aam panna recipe, or green mango drink, is a refreshing cooler that helps beat the scorching summer heat. It is flavoured with roasted cumin powder and chaat masala.This aam panna concentrate can be preserved in the refrigerator for more than a week or two.You can prepare Aam Panna concentrate and then store it in a sterilized bottle in refrigerator. Then prepare the drink using 3-4 tablespoon of the aam panna syrup and chilled water.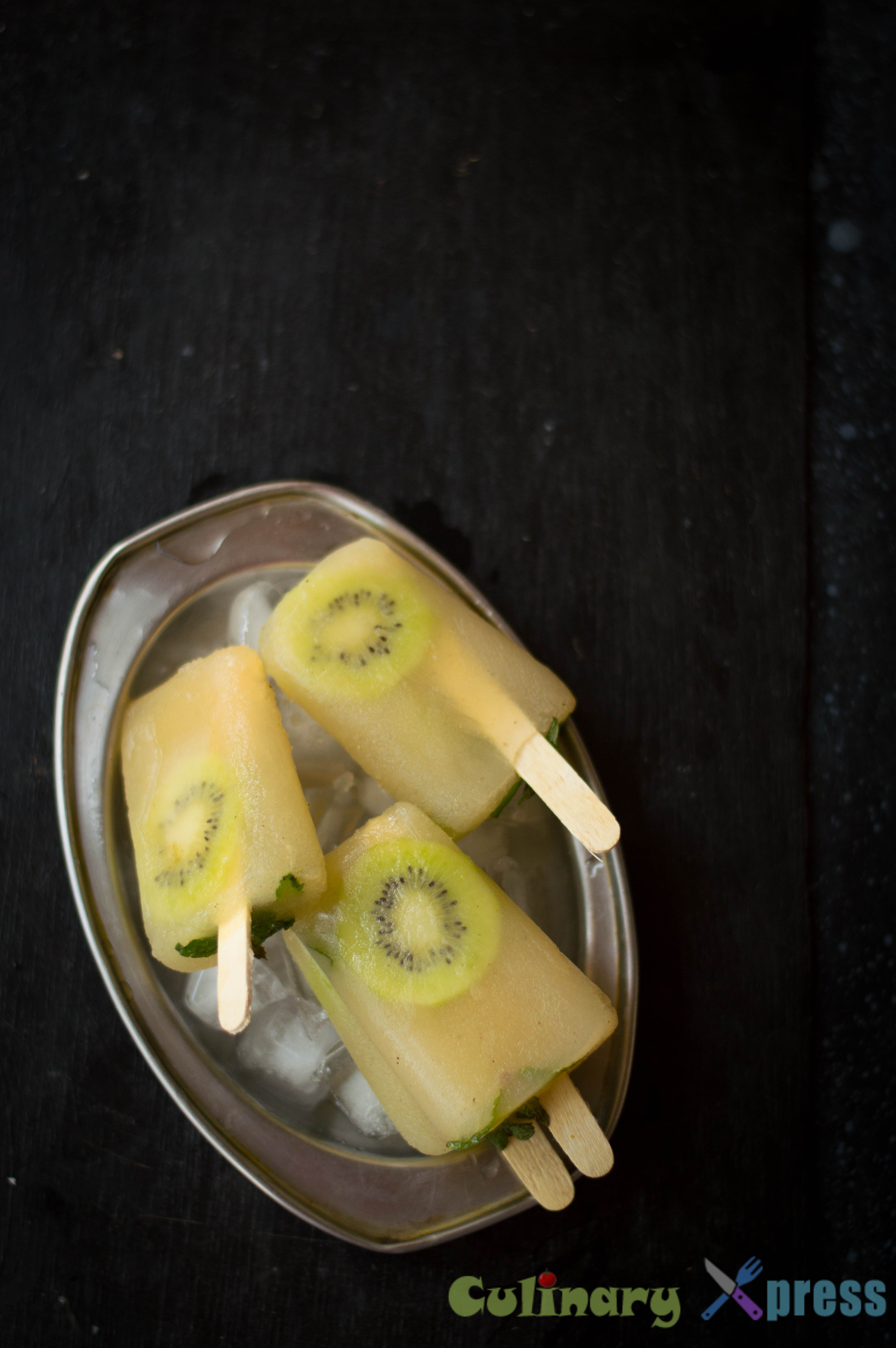 To make aam panna preserve
1

large

raw mango

1/2

cup

sugar

adjust as per taste

1

tsp

freshly roasted cumin powder

1

medium size

lemon
To make aam panna drink
2

tablespoons

aam panna preserve

3/4

cup

chilled water

mint leaves
To make Aam Panaa Kiwi Popsicles
4 glass of Aam Panaa
1 Kiwi fruit
Mint leaves
Instructions:
Select a firm green mango and peel the skin. Grate or chop the mango,leaving out the seed. Pressure cook or boil the mangoes very well till they are very soft and almost dissolved in water.

Mash the mango pieces very well with a masher along with the water. Cook in low flame for 5 minutes. Add sugar and mix well. Continue to cook for 10 minutes in low flame till the syrup thickens and reaches the sauce stage.

Add the roasted cumin powder. Mix well and simmer for 3-4 minutes.

Once the syrup boils and thickens,remove from flame,add lemon juice and mix well. Store aam panna preserve in a clean bottle and cool thoroughly before refrigerating.
Aam panna drink recipe:
Take 2-3 tablespoons of aam panna preserve and add 3/4 cup water. Mix well an add crushed mint leaves .
Peel the Kiwi fruit and cut in slices.
Place 1 or 2 slices of Kiwi fruit in each Popsicle mould and pour the Aaam Panaa over it till the top and place one mint leaves on top .
Keep in the refrigerator and freeze upto 4 to 5 hours or till the Popsicle are set.
After one hour, insert a ice cream stick into each mold. Since it takes more than an hour for the mixture to be frozen completely, the ice cream stick can be inserted into the mixture easily. Now, let the mixture freeze until the pops turn solid; for around 4 to 5 hours more.
To release the Popsicle from the molds, keep them in a warm water bowl for a couple of minutes.
reeze the popsicles again for at least 30 minutes after taking it out from the molds.Serve!
(Visited 75 times, 1 visits today)