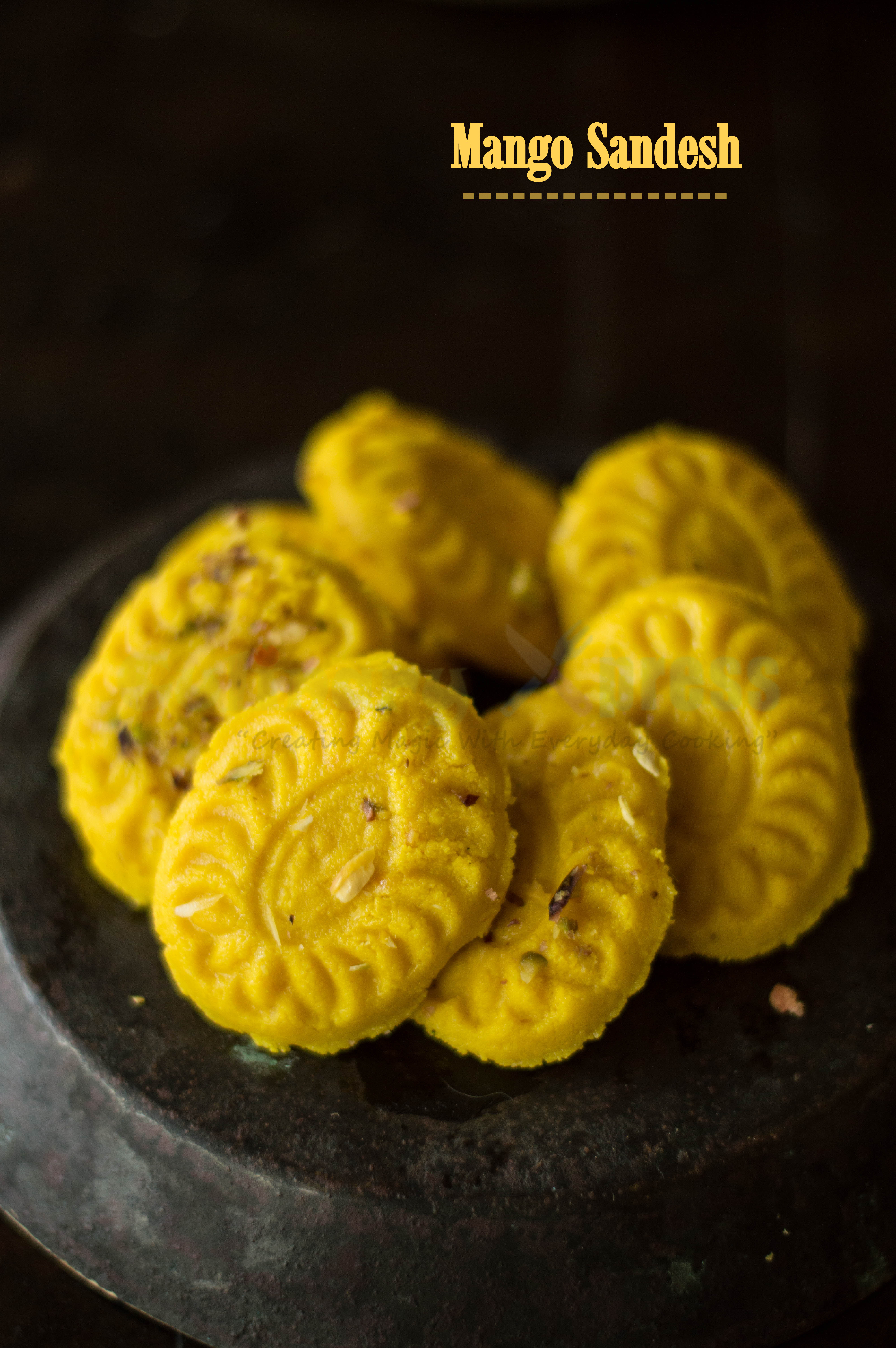 Sandesh or Sondesh is a delicious melt-in-the-mouth traditional Bengali sweet  made only with pure chhana or cheese and delicately flavoured with pistachios. This authentic sweet is considered the purest form of sweet to be offered to the Goddess. This delicate sweet will melt in your mouth within a second.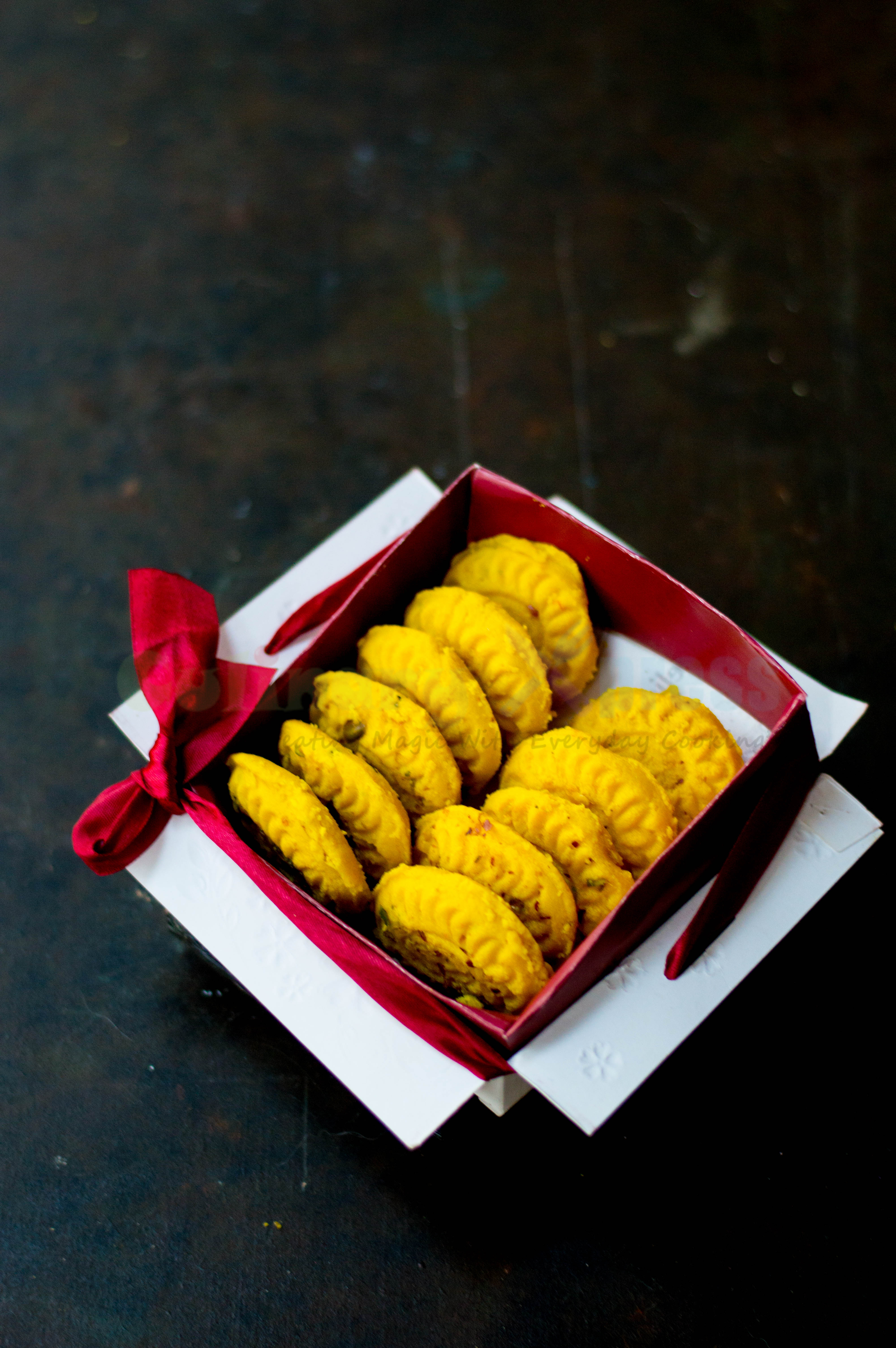 A number of variations can be made with the basic recipe by flavoring it with fresh fruits, syrup, saffron, cocoa etc. Nolen gur in winter and mango in summer are the most preferred flavours. There are a variety of molds with which you can shape these  sweets and decorate with nuts like pistachios, almonds and cashew nuts also. Shankh (conch shell) and maach (fish) are the two most common shapes used to make this delicate sweet.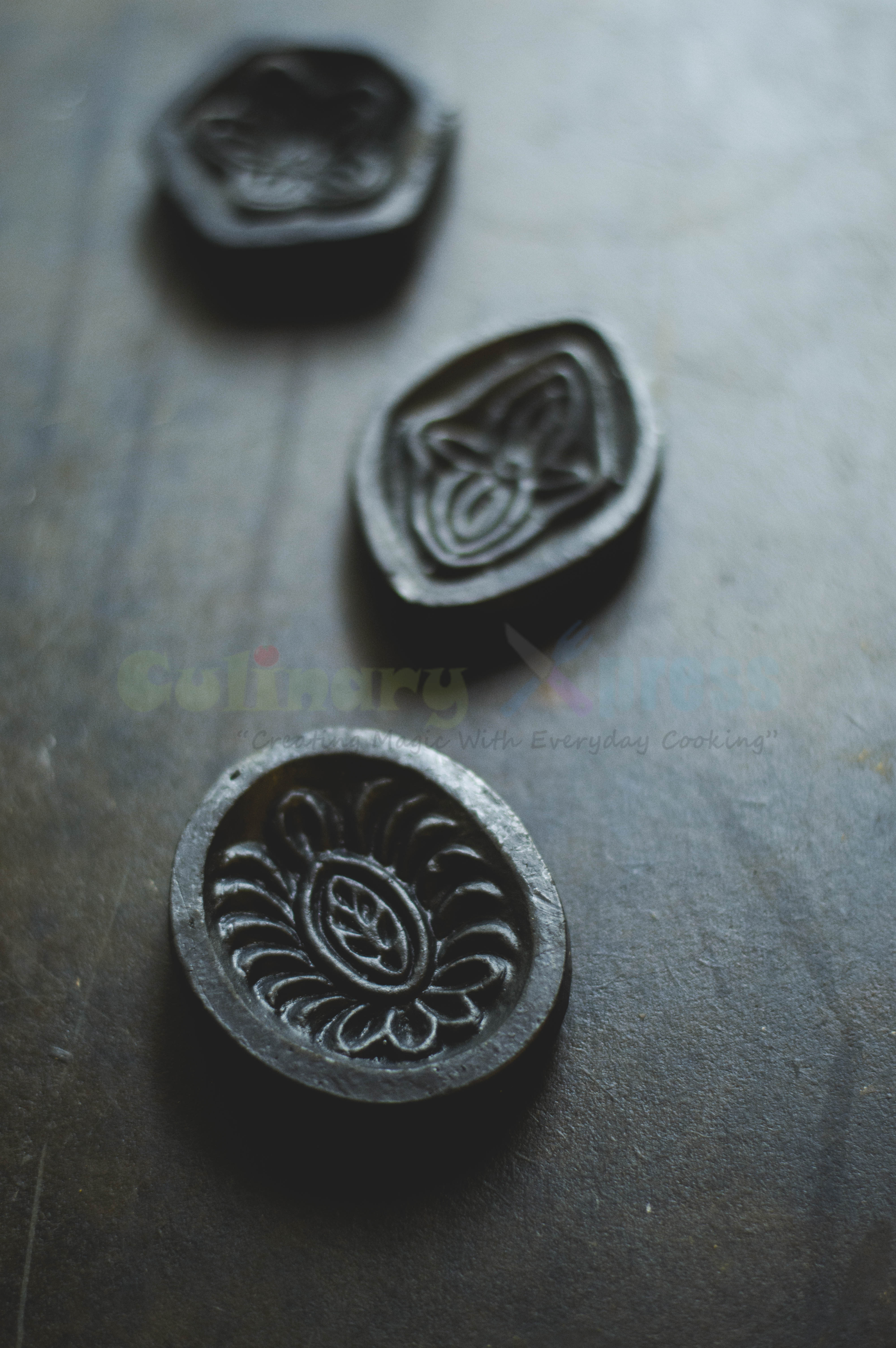 To make any variation, you need to learn to make fresh chenna or moist paneer from scratch. Paneer is an unsalted white cottage cheese  used in a no of Indian dishes. The process involves boiling full fat milk which then  is curdled by adding an acidic medium like lemon juice, vinegar, curd  and the resultant solids are drained completely before it is used.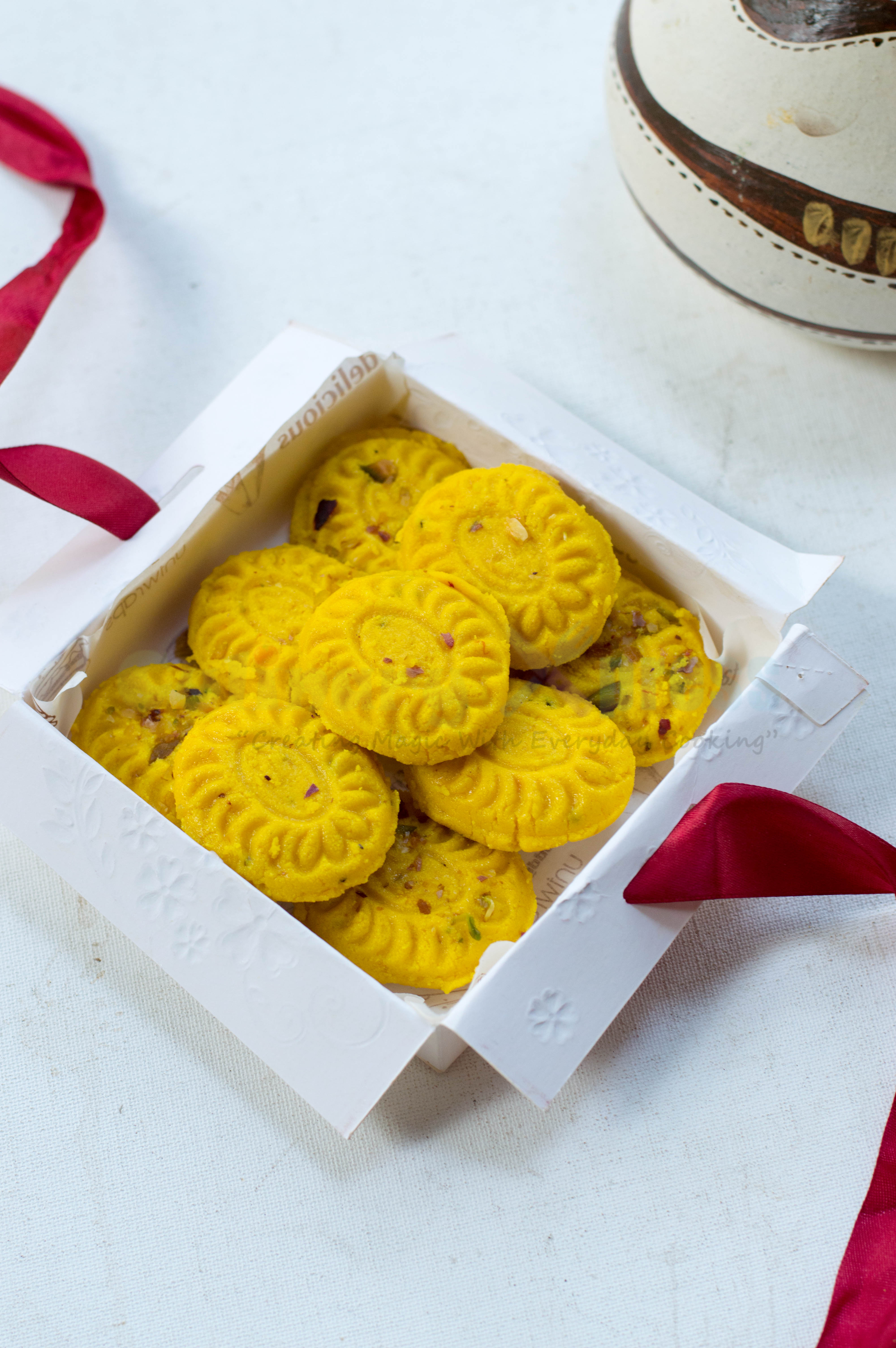 History of Sandesh
Bengal Renaissance of the 19th century  witnessed the emergence of an institution called 'mishtanna' (the sweetmeat) with several 'artists' who experimented in creating delicious sweets from 'chhaana' (casein). The four sweet shops of Kolkata which played a major role in this transformation are 'Bhim Nag', 'KC Das', 'Dwarik Ghosh' & 'Ganguram' with their unique products. You can read about it Here.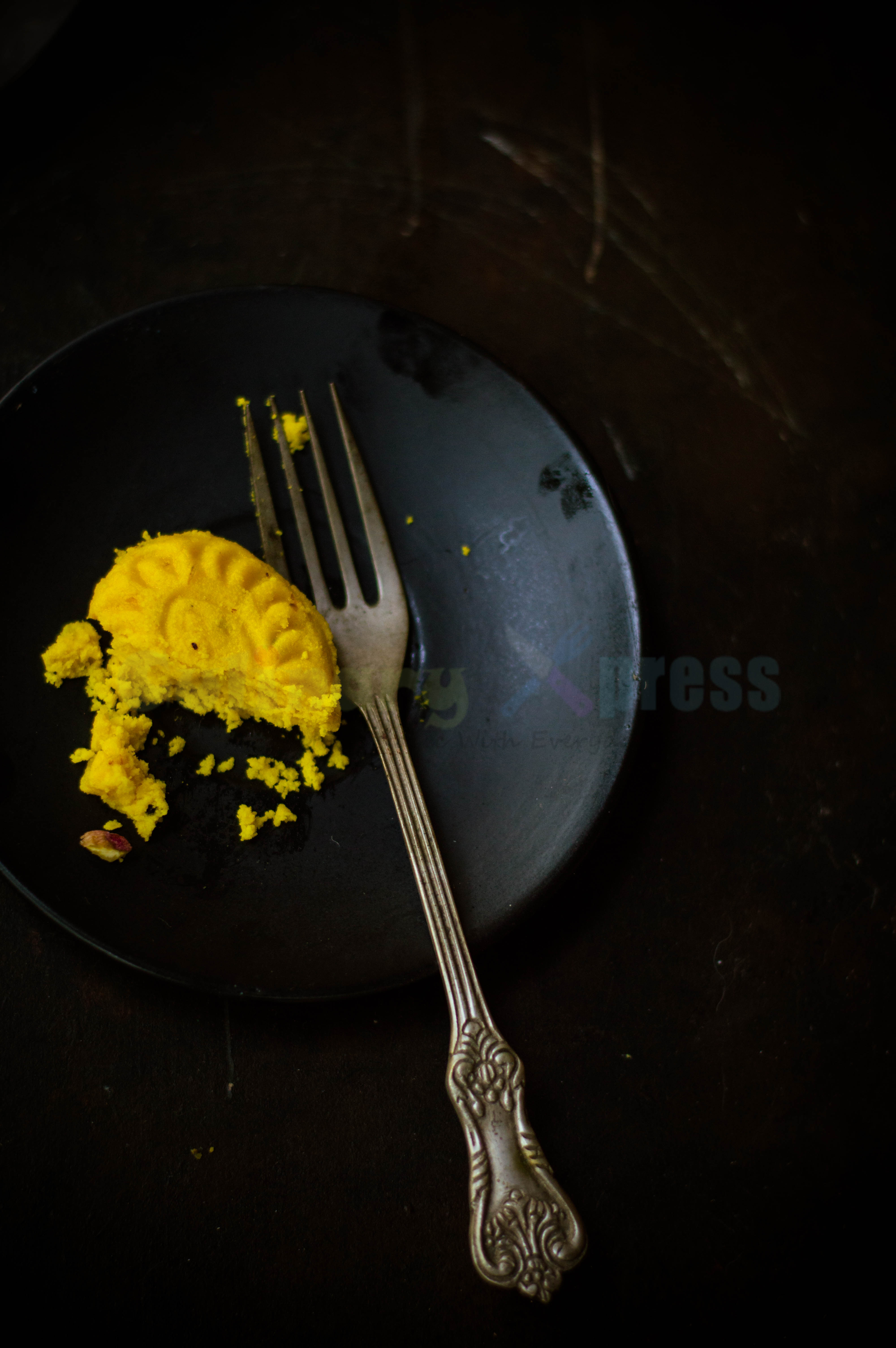 With the mango season in full swing , this traditional  cottage cheese recipe gets a true makeover for the 90th Foodie Monday BlogHop theme of #Cheese. The Mango sandesh , I made for this occasion could be summed up in one word as 'pure bliss' and has lovely bright summery yellow color due to the addition of a hint of saffron in it .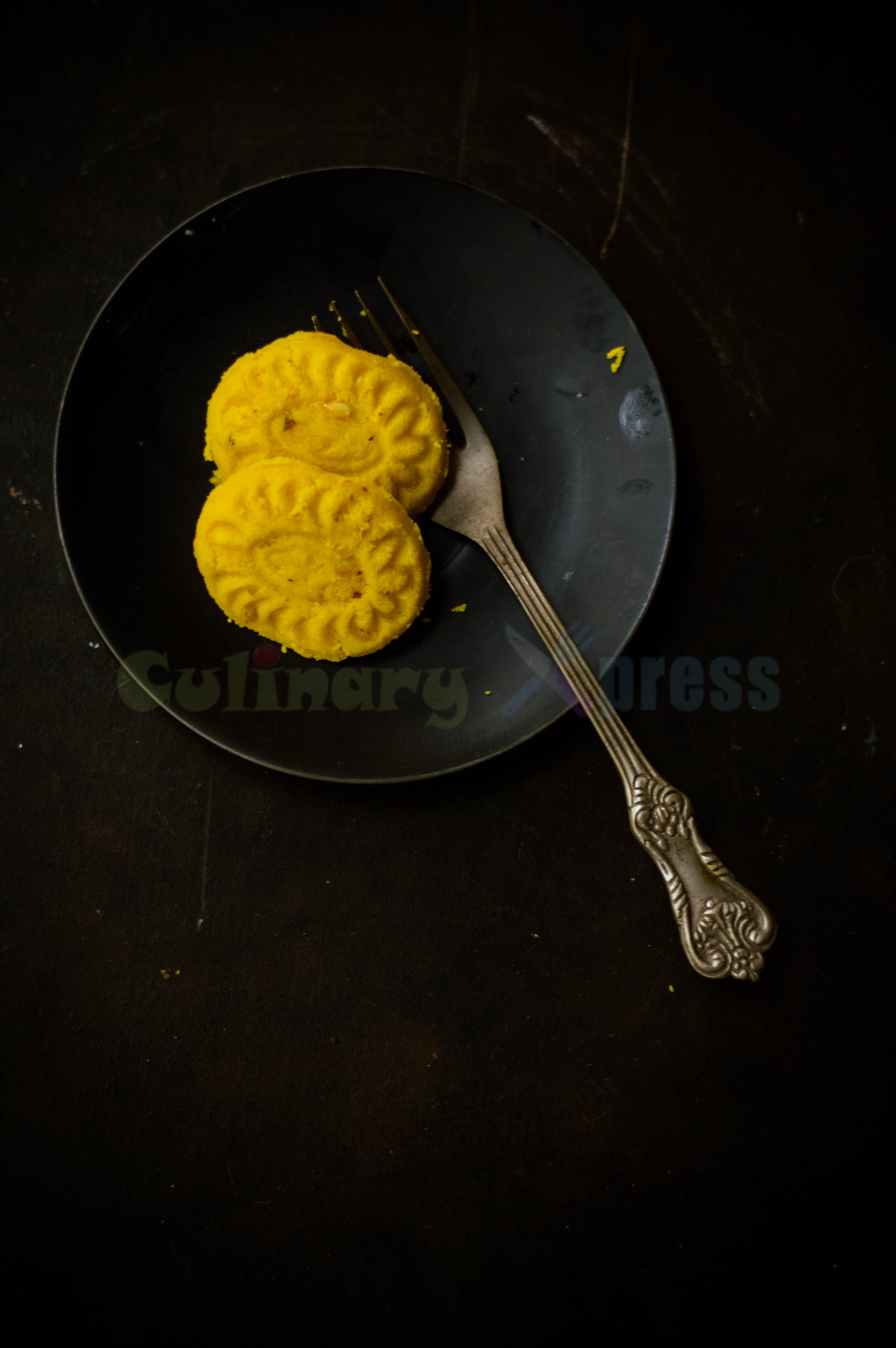 The entire process can be summed in 4 stages like:
Preparing the Chena or cottage cheese
Kneading the Chena
Preparing the Makha
Molding the Sandesh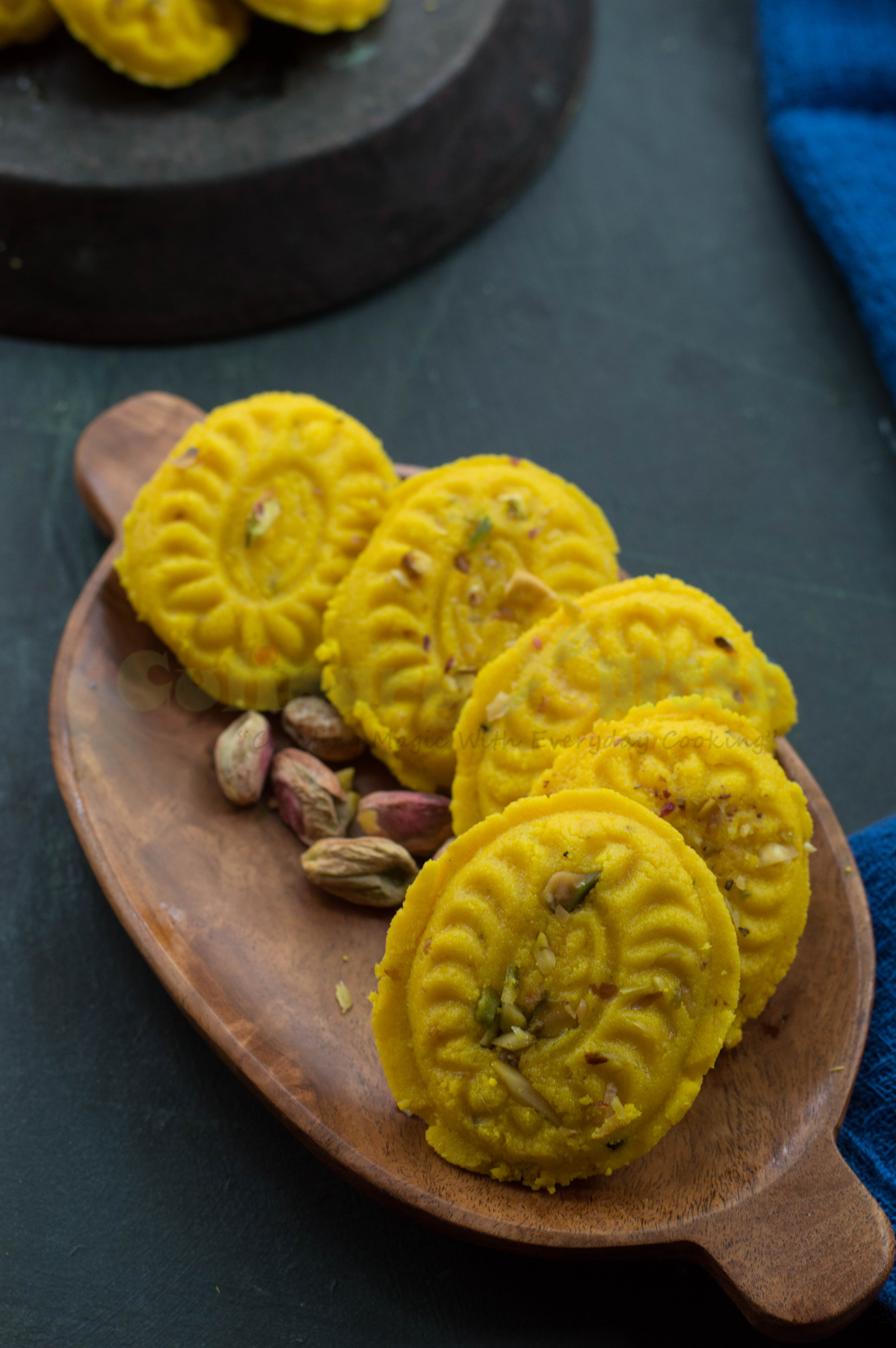 (Visited 313 times, 1 visits today)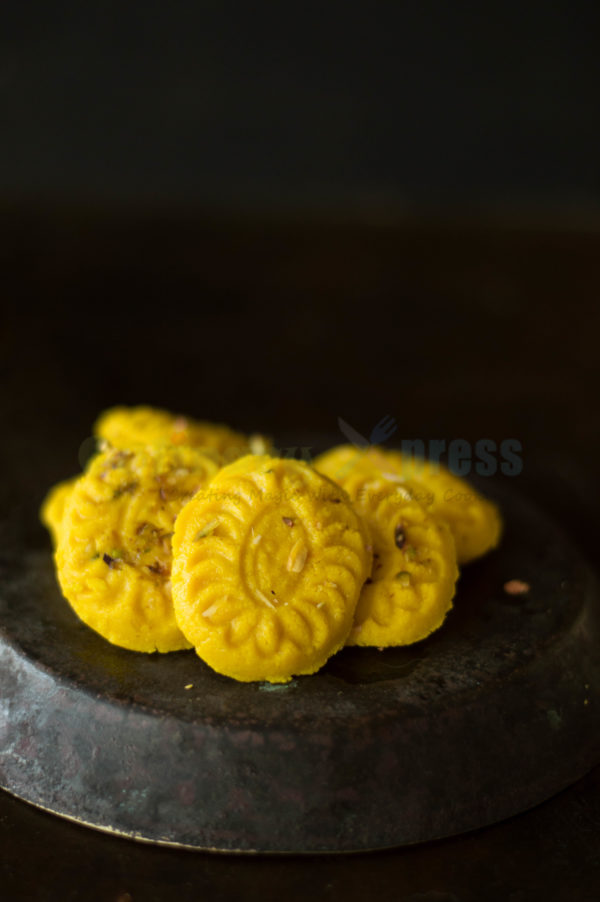 | | |
| --- | --- |
| | |
Heat milk in a heavy bottomed vessel. Bring to a boil and reduce flame to low. Pour in the lemon juice and gently stir with a ladle.You will find that the milk would start curdling with milk solids start forming along with a greenish color thin liquid called whey.

If the milk is not curdling after adding the lemon juice, do add another one or two tbsps of it to curdle it. Turn off flame. Immediately add 8-10 ice cubes to the vessel to stop the further cooking of the milk solids. Adding ice cubes at this stage will give you soft paneer otherwise it might be hard and rubbery in texture.

Take an empty vessel and place a sieve over it. Cover the sieve with a wet cheese cloth and pour the curdled milk into it. The whey will collect at the bottom of the vessel and the curdled milk solids called chena will remain on the top.

Bring the edges of the cloth on all four corners and gently squeeze the chena so that excess liquid is removed. Transfer the chena out of the cloth on a big plate, and knead it with your fingers and palm till smooth and soft. You should be able to form a smooth ball with the mixture. Press the chena only with your palm and continue till your palm feel oil in it.

To this kneaded mixture, add powdered sugar and cardamom powder and mix well.

Heat a wide pan on low flame, dry roast the saffron and add the chena-sugar mixture along with mango puree and mix to combine well.Cook the mixture on low flame stirring constantly. This could take anywhere between 12-15 mins.

Once the mixture turns dry i.e it should have a very soft, dough-like consistency. Turn off heat and remove it onto a greased plate . Allow the mixture to cool slightly so that you can shape the mango sandesh . Shape into small lemon sized balls and flatten lightly. Place chopped nuts of your choice or a whole pistachio in the center.

You can use molds to shape the mango sandesh. Lightly grease the molds with ghee or clarified butter. Add some crushed nuts in the center of the mold. Place warm mango sandesh mixture in the mould and press it. Gently unmold and remove the shaped mango sandesh.
Recipe Note:
 Once the mixture leaves the sides of the pan and becomes lumpy turn off the heat. If you allow the mixture to continue to cook at this stage, it will become rubbery.
It can be stored  in an air tight container for 4 to 5 days in the refrigerator.
If you donot have molds, you still can give shape to it by placing a star anise over it to get a beautiful pattern  Or  use cookie cutter to create exciting shapes.